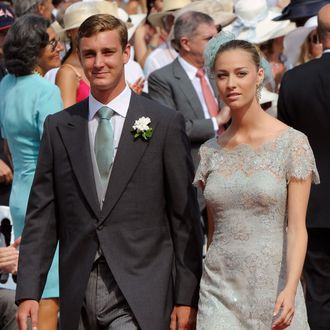 Prince Pierre Casiraghi arrives with girlfriend Countess Beatrice Borromeo for the religious wedding of Prince Albert II of Monaco and Princess Charlene of Monaco at the Prince's Palace on July 2, 2011 in Monaco.
Photo: DAMIEN MEYER/Getty Images
No one does drunken fighting quite like European royalty.  In a story that took no fewer than six reporters to pull together, the New York Post reports that Prince Pierre "Grandson of Princess Grace" Casiraghi, of Monaco, ended up in the hospital after a fight at Double Seven in the Meatpacking District. Pierre was just having an ordinary night, hanging out with Stavros Niarchos (of Paris Hilton infamy) and some models, as one does when one is a 24-year-old prince from an extremely tiny nation whose chief export appears to be good-looking royalty.
Things turned nasty, though, when the prince and pals allegedly insulted the models and drank booze that wasn't theirs. The club's owner, Adam Hock, with his own "supermodel" girlfriend by his side, took a swing at the prince in defense of the ladies' honor. Next, "Hock then allegedly punched out Niarchos, 26, and quickly landed blows on downtown hipsters Vladimir Restoin Roitfeld, 27, and Diego Marroquin, 33 — as the flustered models frantically tried to break it up." Setting aside for the moment the question of how effective models would be at breaking up a fight, next up: bottle smashing!
At one point, witnesses on both sides agree, a friend of Casiraghi grabbed a bottle of Grey Goose vodka from a nearby table and tried to crack it over Hock's head.

Hock's power lawyer, Salvatore Strazzullo, said, "My client was having a nice time with a married couple and a lady friend and a group of very beautiful women, and these individuals were jealous, and they resorted to elementary-school tactics.
Unlike his client, who employed the much more mature junior-high school tactic of starting a fist fight.