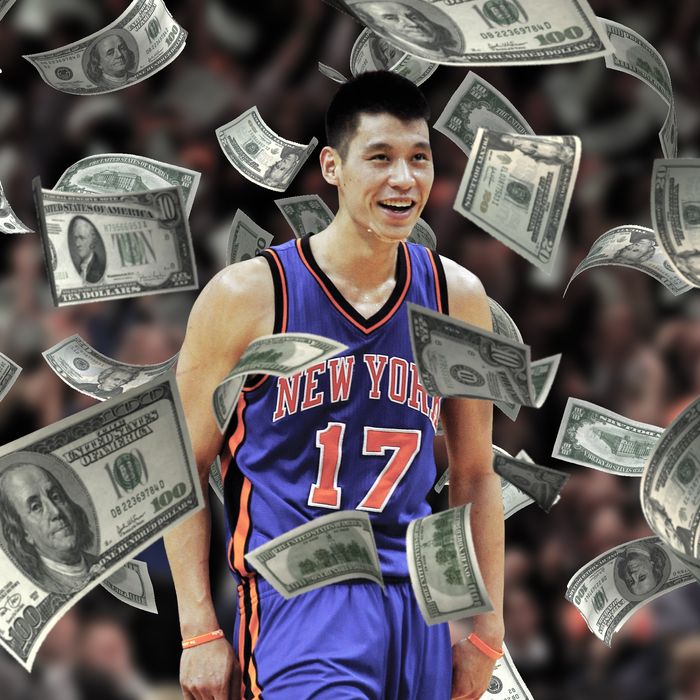 Photo: Photos: Rob Carr/Getty Images, iStockphoto
Jeremy Lin might now be bigger than Jesus on Google, but eternal salvation is for the patient. We at Daily Intel wanted to know who, exactly, is benefiting from Linsanity in the here and now. Below, a brief taxonomy of those who are probably most delighted about the explosion of the Jeremy Lin brand. We welcome additional suggestions in the comments.
Direct Beneficiaries: As Bloomberg and Reuters both pointed out, Lin's sudden rise from obscurity to promise is a marketer's dream come true, both here and in Asia. The NBA is a big-time profiteer from Lin's good week; his jersey has been the No. 1 best-seller. So are the places that sell it, like Modell's near the Garden, where, Bloomberg reported, they've already gone through multiple shipments of Lin gear. Another clear beneficiary: Shares of Madison Square Garden Co. have never been higher.
Black (or Grey) Marketers: There are a lot of people who never before this week had any interest in attending Knicks games, but are suddenly reconsidering the expense. (Hello! We blog among you!) But now, thanks to people like us, if you log onto StubHub or try to grab a ticket on the street from a old-fashioned scalper,  you'll be paying dramatically more for a ticket than a week ago. Similarly, the street vendors outside the Garden selling unauthorized Lin gear are raking it in. And whatever prescient soul bought the domain name www.linsanity.com is probably buying celebratory beers as we speak. Speaking of which …
Secondary Beneficiaries: Sports bars that show Knicks games are selling lots of celebratory beers this week, too. Sometimes merely a shared sports affiliation is identity enough, but a smart sports-bar owner would do well to brand his establishment as either a place where devout Christian Asian immigrants can mingle in celebration of Lin (Gatsby's appears to have the leading edge on that front) or where Harvard grads can celebrate one of their own — there appears to be a bit of a market opening there.
The Relic-Hawkers: The recently canonized have plenty of detritus that suddenly seems holy.  Did you go to college/high school/grade school with Jeremy Lin? Do you have old photographs that prove it? You might want to get on eBay, and fast. Or if, say, you hosted Lin on your couch and you decide you want to upgrade to a better model, you'd probably get more for it than the average Craigslist seller.
Underprivileged Individuals and Communities in the Bay Area: Was anyone really donating much cash to the Jeremy Lin Foundation two weeks ago?
E.J. Costello and Phil Wagner: Lin's trainers from, respectively, 24 Hour Fitness and Sparta Science. They won't have any trouble landing new clients.
Tommy Amaker: Lin's college coach last year signed a lucrative, benefits-filled contract extension with Harvard after leveraging an offer from a bigger program. But not only is he poised to lead his team to the NCAA tournament for the first time in school history, but Lin has handed him an instant recruiting pitch, helping ensuring that the program remains strong.
The Lower East Side: Sure, restaurants and bars and shops around the Garden stand to benefit. But so, in a less obvious way, does real estate in the Lower East Side. Everyone knows that it's where musicians and artists and wealthy people who like being surrounded by those types live; now it's a place where NBA stars kick it on couches. The difference is subtle but crucial.
Or, Westchester: Where Lin is reportedly searching for a place of his own.
Lin's Favorite Brands: Lin plays Monopoly on every road trip with Jerome Jordan, Landry Fields and Tyson Chandler. We don't know why, but that buzz could be good for Mr. Monopoly, in real dollars, not just paper ones. Also, Lin really, really loves In-N-Out Burger. There's not one in New York, of course, so some hamburger chain can still capture his heart (and endorsement).
People Who'll Benefit If Lin Doesn't Flame Out: His agent. His future girlfriend/wife. The matchmaker who'll make a killing convincing girls in New York she's got a direct line to Jeremy Lin. Sports writers. The church that receives his sure-to-be-increased-astronomically tithing. The person who gets a quickie book deal to write Linsanity: The Book.  We are, for the record, available for such a Lin-deavor.
Related: Fifteen Reasons to Remain Unapologetically Over the Moon About Jeremy Lin