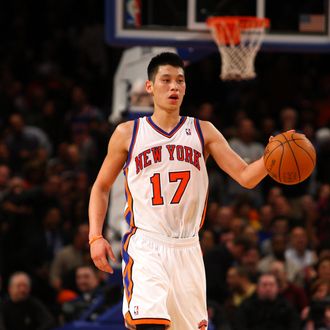 Lin
Photo: Chris Chambers/Getty Images
There's a glimmer of light at the end of the tunnel for Knicks fans who've been listening to games on the radio while refreshing ESPN.com, thanks to a royalties dispute between Time Warner Cable and rival Cablevision-Knicks owner James Dolan that's kept the games off-air for many New York households. Executives from Madison Square Garden and Time Warner met this week, reports the Post, and that, in and of itself, is a good sign.
Neither party would give details to the paper, but MSG's Mike Bair hinted that his side might be willing to soften its stance. "I think right now, because of the Lin story, because of the performance of the team, and because of what we've seen in the ratings, now is the time to do a deal," he said on WFAN. Time Warner says MSG is insisting on a 53 percent increase over its previous deal; MSG says that figure is inaccurate, but either way, it looks as if the cable company will be forced by demand to creep closer to it.
Customers, meanwhile, are ANGRY. Not everyone wants to watch the games in a bar, and so, by way of apology, MSG hosted an all-you-can-eat viewing party for fans last evening at the city's oldest dim sum place, Chinatown's Nom Wah. Fans in attendance didn't seem super-mollified by the free food; it's a move that usually only distracts, say, college students. "It doesn't make sense," one such fan, Vincent Lau, told the Times, "for a New Yorker to not be able to watch their home teams." It's especially annoying for Chinatown's many Lin fans; there are few sports bars in the area, and one very large residential center, Confucius Plaza, is unable to install DirectTV or Verizon service, which are the remaining options for watching the Knicks at home.
Luckily, however, the restaurant wasn't a Time Warner subscriber, so fans were able to actually watch the game.
* This post originally identified the owner of the Knicks as "Larry Dolan." Of course, it's James.