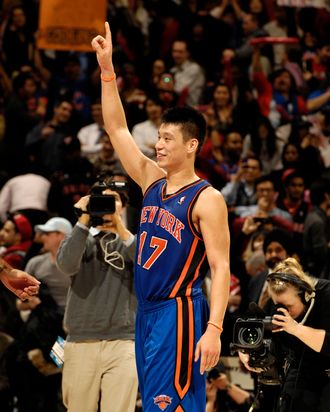 Jeremy Lin #17 of the New York Knicks reacts to the crowd after the win over the Toronto Raptors on February 14, 2012 at the Air Canada Centre in Toronto, Ontario, Canada.
Photo: Ron Turenne/NBAE via Getty Images
Finance blog Minyanville compiled a basket of stocks they're calling the "Lin-dex" to track the Knick's success, which includes the Madison Square Garden Company, Verizon, and Nike.  Puns, we were sad to learn, are not a publicly traded commodity on any of the stock exchanges, since we have Intel-vested heavily in them ourselves.
Related: Who's Benefiting Most From the Jeremy Lin Economy?