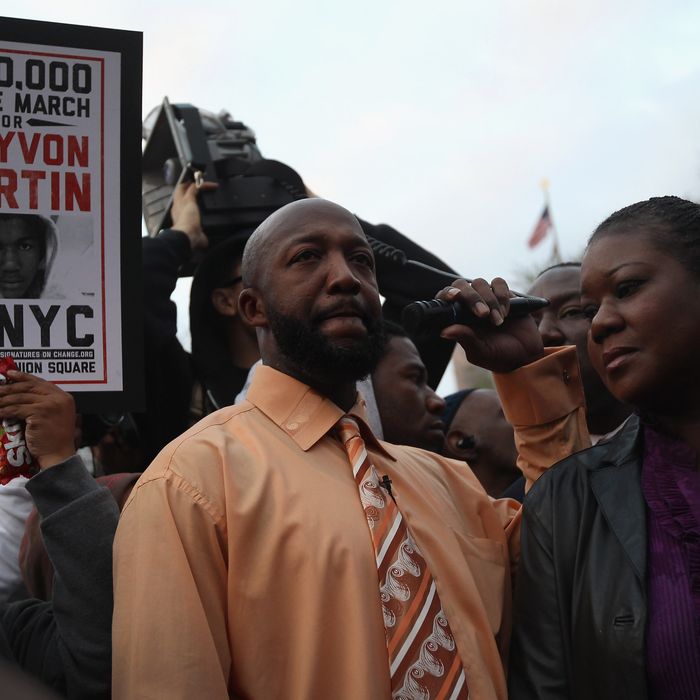 Trayvon Martin's parents attented the Million Hoodies March.
Photo: John Moore/2012 Getty Images
About 1,500 protestors participated in the Million Hoodies March tonight in Union Square to rally for justice in the killing of 17-year-old Trayvon Martin. Martin was wearing a hooded sweatshirt when he was killed by neighborhood watchman George Zimmerman last month. The event was organized by Occupy Wall Street, which called on protestors to wear hoodies to show that "a black person in a hoodie isn't automatically 'suspicious.'"
Martin's parents, Tracy Martin and Sybrina Fulton, attended the march. At the rally in Union Square, Martin told the crowd: "We're not going to stop until we get justice. My son did not deserve to die." The protestors marched from Union Square to Madison Square Park, chanting "we want arrests" and "I am Trayvon Martin." By 9 p.m., the march had split into groups at Times Square, Union Square, and 1 Police Plaza near Wall Street.
Here's a panoramic shot of the protest from Tim Pool of the Timcast OWS livestream, and bird's-eye view shot by Andrew Dallos of NBC News.
After an outpouring of anger across the country this week, city commissioners from Sanford, Florida, gave a vote of "no confidence" tonight in police chief Bill Lee Jr. Lee has been on the job for ten months and has been widely criticized for the police department's handling of the case.
The Change.org petition calling for Zimmerman's arrest has over 918,000 signatures, and the march tonight called for that number to break 1,000,000. CBS Tampa has an investigative piece today on Zimmerman's role in the Sanford community. Zimmerman left Sanford after getting death threats.
It's been a busy few days for Occupy Wall Street, which is showing new signs of life. Last night, about 300 protestors were evicted by the NYPD from their briefly held base in Union Square.