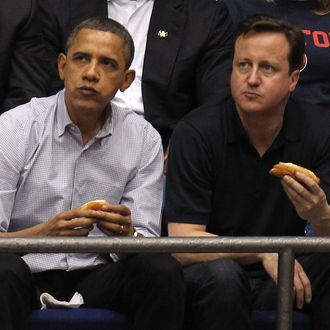 Photo: Gregory Shamus/2012 Getty Images
David Cameron is in town (this side of the Atlantic) today. And how better to welcome the British Prime Minister to our shores than a night in Dayton, Ohio, to watch the first game of March Madness? Barack Obama hosted Cameron courtside — Spike Lee was nowhere to be found — at the match between Mississippi Valley State and Western Kentucky. Cameron had never attended a basketball game before, and Obama gave him some pointers as they munched on hot dogs.
"Both teams are shooting terribly," Obama told Clark Kellogg of CBS Sports. Cameron called the action "fast and furious" and promised to teach Obama cricket. Obama wasted no time praising the ultimate swing state, which he called "the great state of Ohio." "The prime minister has enjoyed meeting all of the wonderful folks here," he gushed. Western Kentucky staged a comeback in the fourth quarter to win the game 59–58.