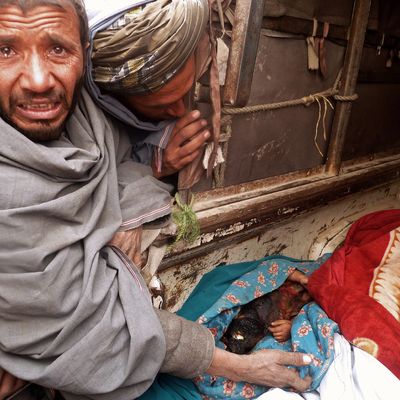 A mourner cries over the bodies of Afghan civilians, allegedly shot by a rogue US soldier, seen loaded into the back of a truck. AFP
Photo: JANGIR/2012 AFP
Early Sunday morning, an American Army staff sergeant walked out of a military base in the rural Panjwai district, in the southern Kandahar province of Afghanistan, headed to the nearest villages and went into three different houses, where he shot and killed at least sixteen unarmed civilians. (An AP photographer confirmed seeing fifteen bodies.) Villagers say five of the dead were girls younger than 7, while Afghan President Hamid Karzai says nine children were killed, along with three women. Speaking to the Associated Press, one mother, sitting in the back of a minibus holding several shrouded bodies, asked of her loss: "Was this child a Taliban member? Believe me I have not yet seen a 2-year-old Taliban member." The Kandahar area has long been a Taliban stronghold, prompting this particular response, but several other villagers confirmed there had been no recent gun battles with any Taliban fighters. This was, they claimed, an unprovoked act of slaughter.
President Karzai had similarly harsh words for the United States and its coalition allies.
This is an assassination, an intentional killing of innocent civilians and cannot be forgiven.
His administration, seen by the average Afghan as fatally corrupt and ineffective, has been under serious pressure to stand up to foreign forces. Samad Khan, a man from the nearby village of Balandi who lost no fewer than eleven members of his family in the attack, explicitly called on Karzai to punish the soldier responsible or hand him over to the villagers.
The White House, Pentagon, and NATO-led International Security Assistance Force all proffered their deepest condolences and assured a swift and relentless investigation, but anything they do is likely too little too late. The American and foreign presence in Afghanistan is becoming increasingly tenuous and less popular as the looming 2014 troop drawdown nears. Just the other day, on Friday, coalition helicopters hunting Taliban insurgents accidentally killed four civilians in the Kapisa province, just outside Kabul. And for weeks now violent protests have wracked the country since American soldiers 'inadvertently' burned copies of the Koran at Bagram Air Base last month — so far some 30 Afghans have died, as have six American soldiers and officers, killed by the very Afghans they were supposed to be working with.
This is a fatal hammer blow on the U.S. military mission in Afghanistan. Whatever sliver of trust and credibility we might have had following the burnings of the Quran is now gone. This may have been the act of a lone, deranged soldier. But the people of Afghanistan will see it for what it was, a wanton massacre of innocent civilians.
That particularly bleak assessment, from David Cortright of Notre Dame's Kroc Institute for International Peace Studies, is no doubt being hashed out right now in conference rooms throughout Washington, D.C., and Foggy Bottom. Months of cautiously optimistic steps — including formal talks between the U.S. and Afghan governments with the Taliban — are now in danger of being walked back.
Update: Newt Gingrich today entered the U.S.-Afghan fray, appearing on CBS's Face the Nation to offer his condolences to the victims' families and suggest they be compensated for their losses, after which he called for an immediate withdrawal of American troops from Afghanistan. "A mission that may frankly not be doable," is how the former Speaker described it to Fox News Sunday's Chris Wallace. He also called on Afghan President Hamid Karzai — he of the "assassination" rhetoric — to apologize for the killings of the six U.S. service members by Afghan security forces.
Yet not all Republicans are quite as ready to get out. Relatively moderate Senator Lindsey Graham maintained that we can still, "get it right. The surge of forces has really put the Taliban on the defensive." And while well-known hawk Senator John McCain said he sympathized with Afghans' frustrations, he cautioned against allowing Afghanistan to once again turn into an Al Qaeda haven.