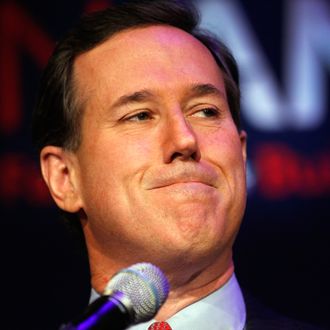 Photo: Joe Raedle/Getty Images
According to a new poll conducted by the Henry J. Kaiser Family Foundation, 63 percent of Americans support the federal mandate that would require private insurance to cover the cost of birth control, with a breakdown of 80 percent of Democrats in favor and just 40 percent of Republicans. That's marginally good news for the administration.  Yet, according to the Kaiser Foundation's research director, the survey data about contraceptive insurance coverage don't represent any kind of a referendum on the use of birth control itself, which is what certain politicians (cough, Rick Santorum, cough) have turned it into recently. "In the end, the answers say more about people's views on the role of government than on the issue of contraception," she explains. But that might be more true for Santorum's own party, actually, where 43 percent of Republican women think the issue is more about religious freedom than health, as opposed to just 10 percent of Democratic women. But that's all almost beside the point.
Lots of people surveyed also took the opportunity to tell the pollsters, essentially, how goddamn annoyed they were that they were even being asked about this stuff at all. According to the Times, "Many Americans, in the survey and in independent interviews, expressed impatience with the focus on women's reproductive issues in an era of economic distress."
Less than one percent of people surveyed said they thought women's health or birth control was what candidates should be debating, which is funny because it's approximately 98 percent of what's been talked about by politicians and journalists lately (one percent Obama's thoughts on the Bulls midseason;  .75 percent Mitt Romney's hair, .25 percent possible war with Iran).