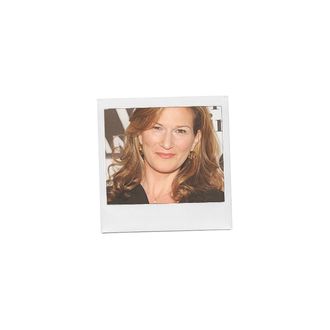 Photo: Jason Kempin/Getty Images
Name: Ana Gasteyer
Age: 44
Neighborhood: Dumbo, Brooklyn
Occupation: Actor/Singer/Comedienne/Mother/Twitterer. She'll be performing two sets of her show "Elegant Songs from a Handsome Woman" on Monday, April 2nd at Joe's Pub. 
Who's your favorite New Yorker, living or dead, real or fictional?
Diana Vreeland (Dead), Phoebe Caulfield (Fictional), Ian Falconer (Living), Colin Quinn (Old-School Brooklyn)
What's the best meal you've eaten in New York?
Too many to name. Recently I've loved meals at Vinegar Hill House and ABC Kitchen. I am obsessed with the Armagnac Prunes at Frankie's 457. They are unbelievable. It is hard to sound cool pushing prunes on your friends, but if you are successful, they are truly memorable.
In one sentence, what do you actually do all day in your job?
I amuse myself and hopefully, others.
What was your first job in New York?
Saturday Night Live.
What's the last thing you saw on Broadway?
Other Desert Cities.
Do you give money to panhandlers?
Yes, unless they are clearly high or wasted.
What's your drink?
 Fall/winter: bourbon and ginger ale. Spring/summer: Good, dry Champagne. Year-round: Caffè latte.
How often do you prepare your own meals?
Often. I've picked every N.Y. apartment based on the kitchen. My first studio was 80 percent kitchen, plus a Murphy bed. 
What's your favorite medication?
Alka-Seltzer cold medicine. You can power through the lousiest cold on that stuff. I'm also big on Arnica and the IUD, but some people wouldn't qualify those as medications.
What's hanging above your sofa?
A view of the Manhattan Bridge. 
How much is too much to spend on a haircut?
Don't care but as for the setup, the simpler the better in my book — I'd rather tip one person huge than have to tip a coat person, a coffee person, a blowout person, a hair cutter and stylist. That makes me feel powerless and sad and in turn, hate my haircut.
When's bedtime?
Whenever the party's over and after I've read some design magazines.
Which do you prefer, the old Times Square or the new Times Square?
Aesthetically, old. For safety heading home after working on a show, new.
What do you think of Donald Trump?
I think his challenges on The  Apprentice don't really demonstrate business acumen. Also thinking I recently lusted over some real cute shoes designed by his daughter Ivanka. Real cute, and real reasonable. Ivanka, you are not fired.
What do you hate most about living in New York?
The hour between 4 and 5 p.m. when you can't get a cab, and those weird days when all the angry crazy people seem to have agreed to ride the subway at the same time. It's gotta be astrological or something. I also absolutely hate it when people spit on the street. Were we not all here for the same Swine Flu freak-out? 
Who is your mortal enemy?
Anxiety and the part of me that wants people to like me.
When's the last time you drove a car?
I shoot Suburgatory in LA so I have to drive a lot. I'm a total New Yorker about it too — constantly forgetting about the car, losing my keys, etc. I've been known to leave a hybrid running for hours while I was working, thinking I'd turned it off.
How has the Wall Street crash affected you?
Far less than I'd feared. My husband and I work in creative fields, so it could have been disastrous, but we've been fortunate. 
Times, Post, or Daily News?
Times at home and on the Kindle in L.A., Daily News on the train.
Where do you go to be alone?
The Brooklyn Heights Promenade and the Brooklyn Botanic Garden. But I have small children, so I'm not really ever alone.
What makes someone a New Yorker?
Anyone with the stamina to live here and love it.  Anyone willing to get rid of their stuff so's to fit new stuff into an apartment. Anyone able to yell first, then be nice. A huge truck honked in traffic by us on the way to preschool this morning. My 4-year-old hollered "Oh go Beep Yourself!" at the driver, then they waved at one another all friendly. That's a New Yorker.