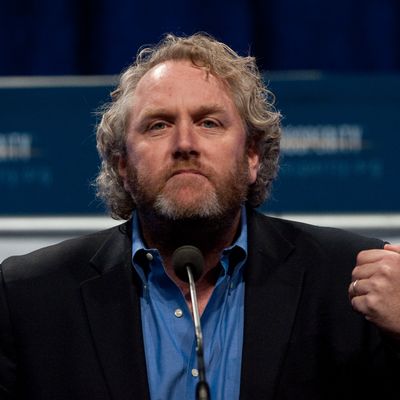 Photo: Nicholas KAmm/AFP/Getty Images
Andrew Breitbart, the conservative pundit and web entrepreneur, has passed away at the age of 43, according to a message posted across all of his websites. "With a terrible feeling of pain and loss we announce the passing of Andrew Breitbart," reads the announcement. "Andrew passed away unexpectedly from natural causes shortly after midnight this morning in Los Angeles. We have lost a husband, a father, a son, a brother, a dear friend, a patriot and a happy warrior. Andrew lived boldly, so that we more timid souls would dare to live freely and fully, and fight for the fragile liberty he showed us how to love." Reached by phone this morning, Joel B. Pollak, editor-in-chief and in-house counsel at Breitbart.com told Daily Intel, "We miss him terribly and we're continuing with the plans he laid for the next stage of the company development."
Breitbart leaves behind four young children and his wife, Susie. After working as an editor for the Drudge Report, he helped to launch The Huffington Post before going on to start his own websites, including Breitbart.com, Breitbart.tv, Big Hollywood, and Big Journalism. There, he made waves supporting the work of vigilante videographer James O'Keefe, who targeted ACORN and NPR. The Breitbart News Network raised a new $10 million round of funding a few months ago. Breitbart also appeared frequently on Fox News.

A New Yorker profile from 2010 described the blogger and provocateur as "tall and burly, with eyes the color of Windex, silver hair that he sometimes forgets is no longer blond, and jowls that he wobbles for emphasis when he wishes to express outrage. He is fond of saying that he has two modes of discourse: righteous indignation and puerile jocularity."
He favored profane language and adversity, telling The New Yorker that he'd love to spar with a liberal, both literally and figuratively. "I'd hate him, I'd fight him. He'd fight me, he'd get in some punches, I'd get in some punches. We'd drink some more. At the end of the day, we'd agree to disagree. And then I'd punch him again." He also saw the business potential in that particular brand of raucous conservatism. "[W]hen the entire media is structured to attack conservatives and Republicans, there is a huge business model to come in and counterbalance that," he said.
Breitbart favored shock tactics and welcomed enemies, and so perhaps it's appropriate that when news of his death first started swirling online, much of Twitter's first instinct was that either his site was hacked or that his death was a hoax. It's neither. Tellingly, Breitbart's Twitter bio reads, "Mild-mannered family guy," while his last message, from early on March 1, says, "I called you a putz cause I thought you were being intentionally disingenuous. If not I apologize."
Update: Matt Drudge has posted the following statement on his site:
DEAR READER: In the first decade of the DRUDGEREPORT Andrew Breitbart was a constant source of energy, passion and commitment. We shared a love of headlines, a love of the news, an excitement about what's happening. I don't think there was a single day during that time when we did not flash each other or laugh with each other, or challenge each other. I still see him in my mind's eye in Venice Beach, the sunny day I met him. He was in his mid 20's. It was all there. He had a wonderful, loving family and we all feel great sadness for them today… MDRUDGE
Breitbart was respected as a sometimes jagged piece of the digital media landscape. Arianna Huffington tells Forbes, "All I can think of at the moment is what Andrew meant to me as a friend, starting from when we worked together — his passion, his exuberance, his fearlessness." And New York Observer editor Elizabeth Spiers writes, "whatever I thought about his politics, I respected the fact that he was willing to scrap with people, make enemies and fight to present his ideas and promote what he believed in."
Newt Gringrich tweeted, "Andrew Breitbart's sudden death is a tragedy for his family and for conservatism. Callista and I send our prayers and our condolences. Andrew Breitbart was the most innovative pioneer in conservative activist social media in America. He had great courage and creativity." Mitt Romney called Breitbart "brilliant entrepreneur, fearless conservative, loving husband and father," while Santorum wrote, "His courage should be an example to us all."
And yet not all responses have been as measured. Glenn Beck, who had public disagreements with Breitbart and tells Forbes that they "were not close," is also raising some cryptic doubts about the cause of death. "They say natural causes. I'm assuming there's going to be an autopsy," Beck said. "I urge you not to jump to any conclusions." Breitbart instilled in many of his readers that the mainstream media was not to be trusted. Conspiracy theories already exist.
The Los Angeles County coroner's office has said there will indeed be an autopsy because of Breitbart's age and sudden death.
This post has been updated throughout.