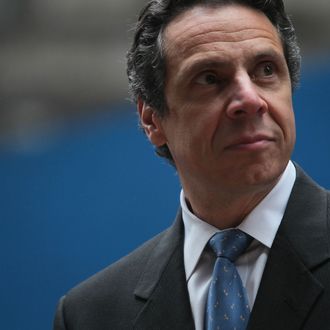 Photo: Chris Hondros/2010 Getty Images
Politicians love to declare victory today on painful changes that will take effect tomorrow — preferably many, many tomorrows from now. The deal struck very early this morning between Governor Andrew Cuomo and the state legislature is a classic example of the form. Yes, a few big things will happen quickly, like an expansion of the state DNA database to include everyone from fare-beaters to murderers. But criminals don't exactly have a strong Albany lobby. More powerful vested interests pushed adjustments to the status quo into the future.
Last year more than 100 incumbents signed Ed Koch's pledge to abide by independent redistricting. Yet those pledges were conveniently forgotten as the prospect of actually having to run in contested elections loomed. Cuomo, after loudly threatening to veto gerrymandered district lines, has apparently agreed to go along with a map that nibbles around the margins — in exchange for a promise that redistricting will be done much more fairly after the 2020 census.
The governor is a realist: The current legislature has largely gone along with his agenda, so why make it mad? The other highly contentious issue this Albany season was pensions for government employees. The package first publicly unveiled at 3 a.m. — and approved in the state senate a mere one hour later — includes a reduced level of retirement benefits…for state employees not yet hired.
So New York's near-term budget deficits will continue to be closed by a combination of service cuts and modestly increased taxes, plus hope for an economic recovery — and maybe a whole bunch of new casinos, because today's deal includes a proposed constitutional amendment to legalize more gambling.
The new pension plan is supposed to save $80 billion in the next 30 years, which would be an especially large gift to the city's bottom line, because of the size of its uniformed work force. Whether middle-class civil servants should be taking the greatest pension hit is a separate, important debate.
Politically, there's plenty of time for legislators and unions to whittle away at the bargains struck this morning — the future bipartisan redistricting process already includes a number of escape clauses. To see if Cuomo's artful compromises were worth it — if state legislative races become a truly fair fight, and if state pensions shrink — check back in 2022 and 2042.