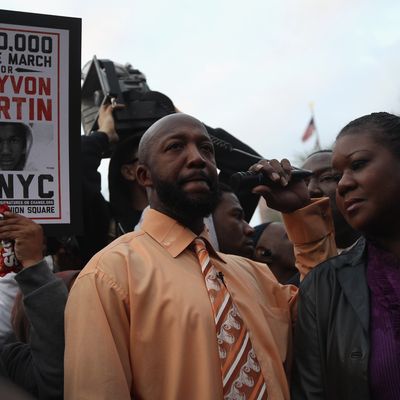 The March 21st rally, John Moore/Getty Images
Photo: John Moore/2012 Getty Images
A month ago, unarmed Florida teenager Trayvon Martin was shot and killed by neighborhood watchman George Zimmerman, triggering massive nationwide protests. Today, anonymous "law enforcement authorities" have put forward a strikingly different account of the events that led to Martin's death, portraying Martin as the aggressor in the confrontation and Zimmerman as an assault victim who defended himself.
The Orlando Sentinel reports Martin "decked" Zimmerman, climbed on top of him, and "slammed his head into the sidewalk, leaving him bloody and battered." This is what Zimmerman told police, according to the Sentinel's sources, and much of his account "has been corroborated by witnesses." Those witnesses remain unnamed, and the lengthy time it has taken for this version of events to emerge is unexplained as yet. Today, thousands are slated to demonstrate in Sanford, Florida, where Al Sharpton, Jesse Jackson, and Ray Lewis are all scheduled to speak.
There are other updates in the divisive case. Ten days before he was killed, Trayvon was suspended from school after being caught with a plastic bag which had been used to transport marijuana. The family's spokesman confirmed the story, which first appeared in the Associated Press. Trayvon's mother, Sybrina Fulton, told reporters: "They killed my son and now they're trying to kill his reputation."
There are also reports that information regarding the pot bag may have been leaked by the Sanford Police Department. City Manager Norton Bonaparte Jr. said that the city would investigate immediately. Trayvon Martin had no juvenile criminal record.
In the last few days, as President Obama saw a chance for sympathy, Newt Gingrich saw an opportunity. The former speaker accused Obama of "disgraceful" and "appalling" race-baiting. And today, Rush Limbaugh took the criticism a step further, blasting the president for using the killing as a "political opportunity."
With the killing's one-month anniversary coinciding with news breaks and intense politicking, this evening's rally is sure to be a powerful one, and the story is far from over. Stay tuned.