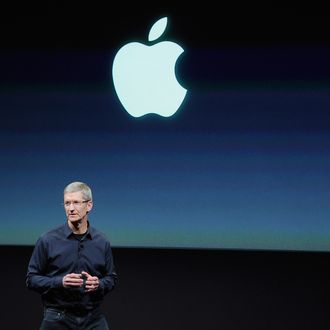 Photo: Kevork Djansezian/2011 Getty Images
For the first time since 1995, Apple will issue dividends to shareholders in an attempt to make use of its almost $100 billion cash reserve. As expected, the company also announced a three-year stock buyback to start in September 2013. But even with plans to spend up to $45 billion in domestic cash on the programs, sales are so good — including, most recently, "a record weekend" for the new iPad — that, as the New York Times reports, "the actions are not likely to reduce the amount of cash in the company's coffers because Apple continues to generate so much money from its business." By the end of fiscal 2013, Apple could have cash to the tune of $180 billion, according to one estimate.
The quarterly stock dividend will be priced at $2.65 a share, while a buyback of $10 billion has been authorized by the board. The news will likely signal "record volumes of trading in the stock in the coming days as funds that cannot own a stock unless it pays a dividend start buying," the Times reports.
According to the Journal, "it didn't appear as if Wall Street was overwhelmed by the amount of cash the company was distributing to its shareholders," although Apple shares were up more than 2 percent this afternoon. "I'm somewhere between surprised and disappointed," said one analyst, referring to the dividend's relatively low yield. "It's good they're paying a dividend, but I would say this is not a game changer."
While not exactly drastic, the move was seen as necessary because Apple is earning less than one percent interest on the cash. "Even with these investments, we can maintain a war chest for strategic opportunities and have plenty of cash to run our business," said Apple CEO Tim Cook. "These decisions will not close any doors for us."