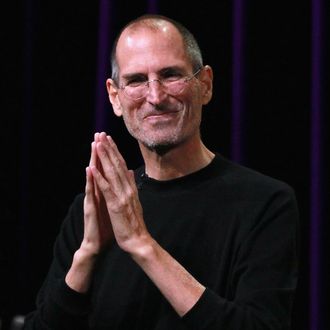 Photo: Justin Sullivan/2010 Getty Images
Coinciding nicely with the announcement of a new iPad, The Wall Street Journal reports that the Justice Department wants to sue Apple, along with five of the biggest publishers, over the price of electronic books. Simon & Schuster, Hachette, Penguin, Macmillian, and HarperCollins are all potentially on the hook in a planned antitrust case that alleges the companies colluded to raise prices by agreeing to a model in which the publishers set the prices and Apple takes a 30 percent cut. Consumers lose.
"A settlement is being considered for pragmatic reasons but by no means are we close,"said a publishing exec. "You have to consider a settlement, whether you think it's fair or not."
What's at stake is the future of an industry that brought in $970 million last year, but one that the Justice Department claims does not allow for necessary competition because Apple's setup assures publishers cannot sell to other buyers for less. This "most favored nation" clause came about because publishers were afraid of Amazon's early $9.99 e-book prices, which they thought would undercut other retailers: "In essence, they feared suffering the same fate as record companies at Apple's hands, when the computer maker's iTunes service became the dominant player by selling songs for 99 cents."
Enter Steve Jobs, who ran afoul of the Justice Department in 2010 by agreeing with other tech companies not to poach employees. This time, the late Apple chief had another hyper-business-minded  (one might even say Jobsian) plan. According to his biographer, Jobs said, "We told the publishers, 'We'll go to the agency model, where you set the price, and we get our 30 percent, and yes, the customer pays a little more, but that's what you want anyway." Just like that, "They went to Amazon and said, 'You're going to sign an agency contract or we're not going to give you the books.'" Oops — that's against the rules.