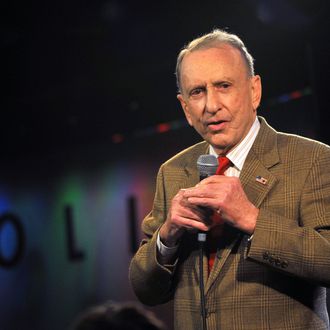 Senator, skirt watcher.
Photo: Jude Domski/Getty Images
Former Pennsylvania senator Arlen Specter, currently on a comedy tour for his own amusement or in promotion of his new memoir, Life Among Cannibals, apparently offers much more than anecdotes about government dysfunction. An excerpt obtained by the Huffington Post's Amanda Terkel suggests that in addition to some self-aggrandizement, and stories from Specter's long career in politics, the book might also be part steamy erotic novel. Here's the excerpt, from page 156, in which Specter recounts a ride on McCain's campaign bus in 2008 when he sat next to Sarah Palin:
>
"Still, she [Palin] was a total charmer, very friendly. The few things she said were intelligent.
"We were sitting virtually knee to knee in the cramped bus, and she radiated sensuality. Her skirt rode above her knees — not exactly short, but close."
Well, hello! Move over E.L. James and 50 Shades of Grey. Was she wearing stockings?