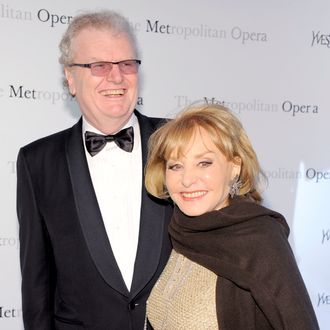 Sir Howard Stringer and Barbara Walters at The Metropolitan Opera Premiere of Manon, March 26, 2012.
Photo: Clint Spaulding/PatrickMcMullan.com
Barbara Walters has one of the most highly recognizable voices on television, but "you don't want to hear me [sing]," she told Daily Intel. When we caught up with the venerable newswoman at the opening night of the opera Manon at the Metropolitan Opera House at Lincoln Center, she admitted to dabbling in a little karaoke. Her go-to song is Michael Bublé's "Home," or as she called it, "Let Me Go Home" —   but she didn't specify if she sings it more like Bublé or Blake Shelton. We're guessing the latter, since she described her voice as a bass. "I'm certainly not a tenor," she laughed.