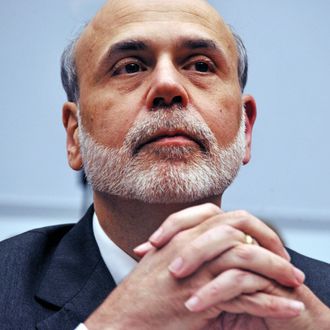 Next stop, tweed.
Photo: KAREN BLEIER/2011 AFP
Ben Bernanke, in addition to his regular duties running the Federal Reserve, has also been on a PR offensive of late. As the Times reports, that includes not just making high-profile television appearances and holding town hall-style sessions with members of the public but also a short-term gig as a college professor. Bernanke will give four lectures at George Washington University and even "read some student papers." And he didn't even have to slave away for tenure to get that light a load!
So, how do the students like Professor Bernanke? Mostly, they are stunned that he is not a hologram. "It always surprises you to realize that this guy actually exists, and he's not just on TV," 19-year-old Max Sanders told the Times, confirming some of America's worst fears about television-watching habits and reality perception in our youth. Other students wrestled with the content of the lectures, making tough calls on who, exactly, it is most important to flatter.
"It's a once-in-a-lifetime opportunity to hear lectures from him," said Noah Wiviott, 21, of New Jersey. "He clearly knows what he's talking about."

Not everyone, however, found him convincing.

Yuqi Wu, a 20-year-old student from China, said she did not agree with Mr. Bernanke's criticism of her government's monetary policy.

"I definitely support the Chinese government's position," she said.
America and China might disagree on monetary policy, but at least youthful brown-nosing is universal.