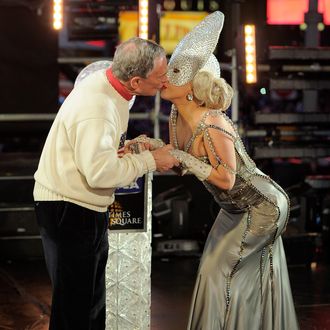 Politics makes strange bedfellows.
Photo: Jemal Countess/Getty Images
Several weeks ago, Barack Obama and Michael Bloomberg sat down for what was previously an undisclosed lunch, reports the Times. Most of what the men discussed or decided remains unknown, but Obama did ask Bloomberg what his post-mayoral plans might be. Given that Bloomberg is, thanks to his third term, the political equivalent of Van Wilder, it's not an unreasonable question. And, of course, it's one in which Obama has a stake: He's desperate to make inroads with the sort of moderate conservatives (or more pragmatic-minded Democrats who've become disaffected with the administration) who make up Bloomberg's fan base, and convincing the mayor to pledge himself to some sort of a role in the administration — or an endorsement — would be huge for Obama.
Whether Bloomberg would do such a thing is not so clear. The two men don't have "a warm relationship," as the Times delicately puts it. The best example of the two being friendly that administration spokesman Jay Carney could come up with: One time Obama invited Bloomberg to play golf, and another time the president sent Biden to talk to Bloomberg about the economy. Because that's what best friends do, they send third parties to talk on their behalf. The mayor's girlfriend, taking a page from Sarah Palin's book, recently dismissed the success of Obama's "hopey-changey stuff." Bloomberg, meanwhile, once supposedly told Rupert Murdoch that Obama was the most arrogant man he'd ever met, which, coming from him, may actually have been a compliment.
Even if Bloomberg were Obama's No. 1 fan, he might not want to work for the guy — or The Man. After all, he hasn't had a boss in years and years, and  as he said in 2010, "I am not an adviser. You know, I am a doer." So he's probably gonna, like, write a screenplay or backpack through Europe once his term is up.