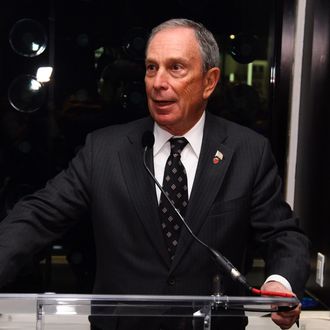 Photo: Neilson Barnard/2011 Getty Images
Every year, New York City Mayor and billionaire Michael Bloomberg treats about 70 of his top officials to a party to celebrate spring and influence.
Last Thursday, the Times reports, Bloomberg hosted a cook-off at the Institute of Culinary Education, where officials like Police Commissioner Ray Kelly and the city's head lawyer, Michael Cardozo, made hanger steak and bourbon-chocolate beignets. Kelly chopped garlic, and the city's head of finance, David Frankel, prepared prosciutto.
The lucky city commissioners in attendance were instructed to dress casually and provided with aprons affixed with a blue A rating, a wink to the city's restaurant cleanliness grading system.
Cardozo and his team (which included sanitation commissioner John Doherty) won a pair of Gracie Mansion oven mitts for their rice-paper-wrapped arctic char. Bloomberg did not cook. "Some people were put on earth to cook and some people were put here to eat," he told his guests, "and I'm here to eat."
Previous parties — which Bloomberg pays for himself — have included a bowling night in Williamsburg, a Ping-Pong tournament at SPiN in Manhattan, and a Korean feast in Flushing, Queens. New York City top administrators … they're just like us (to the extent that it makes us seriously evaluate our life choices).