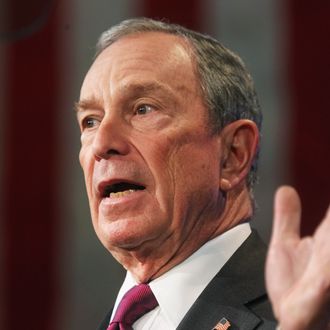 Untag?
Photo: Mario Tama/2012 Getty Images
Michael Bloomberg, speaking in Singapore yesterday at a conference, expressed a few concerns about the role of social media in his life. Does he worry that he spends too much time scrolling Twitter?  That his Facebook profile is a tad unprofessional? That maybe LinkedIn is worth joining after all? That he's a tool for being on Foursquare? No, Bloomberg doesn't have any of those ordinary worries. Instead, as the Times reports, he thinks that it puts him too much in touch with the little people — and it's not good for them, you see, to be too involved. Take it away, Mike:
The mayor noted that technology, despite its benefits, can add new pitfalls to an already grueling process. "Social media is going to make it even more difficult to make long-term investments" in cities, Mr. Bloomberg said.

"We are basically having a referendum on every single thing that we do every day," he said. "And it's very hard for people to stand up to that and say, 'No, no, this is what we're going to do,' when there's constant criticism, and an election process that you have to look forward to and face periodically."
Ugh, Twitter @replies! Parody accounts mocking your Spanish! Free and fair elections! Term limits! Democracy! Louis XIV didn't have to deal with any of these things. Poor Mike.