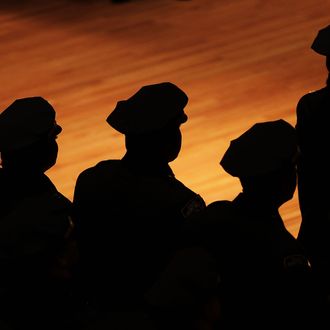 Photo: Spencer Platt/Getty Images
Over the weekend, a New York Times editorial decried the NYPD spying on Muslims inside the city and out, as uncovered by the Associated Press, and chided Mayor Bloomberg for reacting "in the worst possible way — with disdain — to those raising legitimate questions about the surveillance program." Asked about those criticisms today, Bloomberg fell short of his already underwhelming rationale by saying, "I have many friends that are Muslims, and … those that I've talked to have said this country is threatened by radicals and we should continue to keep this country safe, because if we don't, everybody's religious freedom is going to be threatened."
Blooming is unconvincing, but he isn't lying: Yesterday, a few dozen Muslims rallied in support of the NYPD. Speakers included Dr. Zudhi Jasser, the narrator of the fear-mongering The Third Jihad, the documentary featuring Ray Kelly that was revealed to have been shown during NYPD training. "In no way do we want to be spied on," said Jasser. "But this is not about spying. This is about monitoring and public programs."
Kelly has voiced similar justifications, citing only the public pieces of the larger surveillance program. "Anyone who intimates that it is unlawful for the police department to search online, visit public places or map neighborhoods has either not read, misunderstood or intentionally obfuscated the meaning of the Handschu guidelines," the police commissioner said over the weekend, seemingly ignoring the parts of the programs that exist outside of that reasoning.
Meanwhile, a new report today says that when the spying was done in New Jersey, many government officials were aware, including then-U.S. Attorney Chris Christie, who has since called the spying "disturbing."
As for Bloomberg's potential successors, Manhattan borough president Scott Stringer and the troubled Comptroller John Liu both admitted religious profiling is problematic, but made sure to praise the department too, while long-shot candidate Tom Allon was unequivocal in his support of the NYPD. The other three likely candidates, including City Council Speaker Christine Quinn, Public Advocate Bill de Blasio and former comptroller Bill Thompson, have so far kept quiet, which may be politically advantageous at this stage, but isn't exactly the high road.