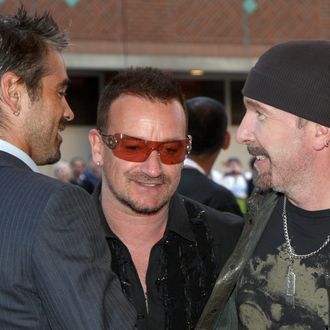 Bono?
Photo: Alberto E. Rodriguez/2009 Getty Images
Jason Mattera is the D.C."bad boy reporter" behind the new book Hollywood Hypocrites, which warns, "The same Hollywood loons who got Barack Hussein Obama elected in 2008 will do so again in 2012. That is, unless we muzzle them." As promotion for the title, Mattera ambush-interviewed dirty liberal Bono with suspicious questions about the singer's charity work and taxes. The video was posted on conservative blogs like Breitbart.com and The Blaze, as well as praised by Sean Hannity, but has since been pulled because, um, that probably wasn't Bono. 
The video has been made private on YouTube, while a post on The Blaze has since been corrected, noting "widespread discussion on Twitter that the person Mattera interviewed in the videos may have been a Bono impersonator." The article was deleted entirely from Breitbart.com, although it still shows up in the site's search results with the headline, "Exclusive: U2's Bono Caught in Tax-Dodging Hypocrisy."
"We went through a vetting process on this and appropriate questions were raised and appropriate answers were given," Breitbart.com editor Joel Pollack assured us this afternoon by phone. "But the videographer then asked us to take it down, so we did." But Pollak said he would "neither confirm nor deny" that mistaken identity was the reason for the scrubbing. Alas, Media Matters notes that the night of the recording, a Bono impersonator was present — and dressed exactly like the man in the video.
Hannity asked Mattera yesterday how he was able to land an interview with a big shot like Bono, and Mattera credited "basic shoeleather journalism":
Mattera: By dodging taxes on royalties are you raiding the poverty programs you purport to champion?
"Bono": No.
Mattera: No? Don't you want governments to be generous with other people's money and not yours?
"Bono": I don't have control over that …
Mattera: How do you not have control over that? It's your company. Are you not in charge of your own company?
"Bono": It's not my company.
Mattera: You have no say in what U2 does?
"Bono": Not particularly.
Mattera: You don't? You don't have a say in what U2 does?
"Bono": No.
So at least he got honest answers. The video lives on here because this is the Internet: