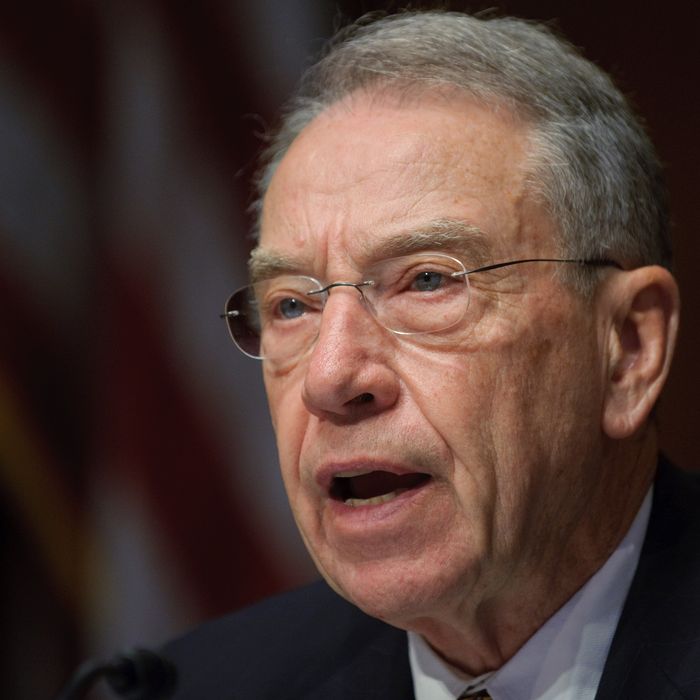 Is the History Channel history's greatest monster?
Photo: MANDEL NGAN/2011 AFP
Iowa Republican Chuck Grassley's anger at the History network's lack of historical programming has become one of his favorite Twitter hobbyhorses in recent weeks. It all started back in early January, when the senator tweeted, "Ocassionally I turn to History channel hope to c history. Whenevr will the history channel hv a real old fashion histry program." Eloquently put, Senator.
That initial tweet was followed by an occasional spate of similar kvetching: It seems that, try as he might, Grassley just couldn't help going back to the well. And so, in honor of his latest complaint, issued Sunday evening, we seek to put the whole thing in proper historical perspective for you. Grassley wouldn't want it any other way.
1927: Philo Farnsworth invents the television.
1933: Chuck Grassley born.
1956: Chuck Grassley receives a master's degree. Not in history.
1995: The History Channel launches. Clearly, also inaugurates a good period in Grassley's life.
1997: Salon argues there's a little too much Hitler on the History Channel. Chuck Grassley does not appear to go on record about this; historians may discover his position on this important matter in a dusty pile of letters someday in the future, however.
June 2007: The History Channel has its first reality-TV hit, Ice Road Truckers. Again, as of yet, no record of Grassley commentary, but journalism is merely history's first draft.
March 2008: The History Channel changes its name to, simply, History, signalling its brand's movement away from traditional historical programming. Chuck Grassley does not comment, for the record.
Januuary 18, 2010: American Pickers first airs. Grassley does not hate this show, it will later become clear, although it is not, strictly, about history.
January 6, 2012: Grassley's rage begins, nearly coinciding with the New Year that, according to Mayan prognostication, might be the last. Coincidence?
February 1, 2012: Grassley, unlike much of America, is not charmed by Pawn Stars. "I turn to History channel frequently bc I like history. There is nevr any history unless u r an antique dealer. Change name!"
February 29, 2012: Grassley is disappointed by Ax Men and plaintively wonders about the title yet again. "Just turned to history channel. No history. I used to get history. Why do we h v such a channel when it doesnt do history."
February 25, 2012. Grassley is disappointed by Mudcats and once again sounds his unbarbaric yawp. "Just love history. So occasionally I turn to history channel. 'mud cats' when wi they put history back on the channel."
 March 10, 2012: Grassley is disappointed by Modern Marvels: Muscle Cars. "Just tuned to History channel. Once again no history."

March 13, 2012: Chuck Grassley admits in a public forum to enjoying a History network reality show. It is American Pickers. The occasion is a momentous one. Is he embracing the channel's new slogan, "History, made every day"?
March 14, 2012: Reports surface that History has ordered its first scripted series, Vikings. Chuck Grassley does not comment.
9:35 p.m. on March 18, 2012: Chuck Grassley is disappointed, once again. "History. No history. Axe man Timber Nothing historical. Back to FOX. Sigh. Suggest name to change channel name."
9:53 p.m. on  March 18, 2012: Twitter user Michael Miller reports @ Grassley that he went to Fox and found no actual foxes onscreen. Can a Grassley campaign for the network to change its name be far behind?
Additional reporting by Rebecca Berg.