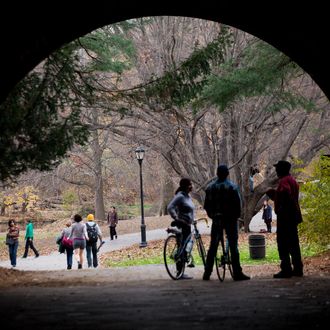 Photo: Michael Nagle/2011 Getty Images
Park Slope will stop at nothing to become the galaxy's most ridiculed neighborhood.
A rag-tag team of Prospect Park volunteers who call themselves the Litter Mob have constructed a 50-foot path leading to the "Vale of Cashmere," a heavily wooded section that is a popular destination for public sex. Why? The path is intended to direct cruisers to sex rather than the delicate plants surrounding the Midwood section of the park. The path will prevent soil erosion and protect tree roots from people walking back and forth from the "Vale."
"I don't care if people have sex, but all the little trails they leave behind are really bad for the forest floor," explained Marie Viljoen, Litter Mob's founder.
Litter Mob's Blogspot enumerates the four types of "light litter" you may stumble upon in the park: X-rated (condoms, lube, etc.), drug paraphernalia ("but few needles"), chip and gum wrappers, and cigarettes ("mostly Newport Lights"). The Mob meets twice a month to collect trash in the park, which Viljoen calls "Brooklyn's last forest." According to Brooklyn Paper, the Litter Mob also includes "a New York University student, a French guy, and an ecology student." Because, of course. 
Prospect Park spokesman Paul Nelson explained that the Litter Mob's new trail was not built to encourage outdoor sex. "They were cribbing the steep part for better footing and to control erosion," he said.