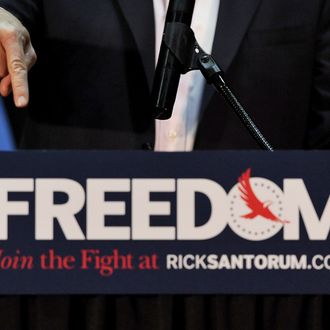 Photo: Patrick Smith/2012 Getty Images
Rick Santorum lost big in the Illinois primary tonight. After his concession speech, he touted his Big New Idea "freedom" to let his Twitter followers know what he's up to next: "Thank you to our supporters in Illinois. We're taking this fight for freedom next to Louisiana."
That's for sure. Romney outspent Santorum by a factor of seven to one in Illinois advertising this week, but Santorum has beefed up his fund-raising in the Bayou State. The Red Blue and White Fund, a super PAC supporting Santorum, has helped raise almost $500,000 for local advertising.
Romney's super PAC Restore Our Future has committed $600,000. Winning Our Future, the pro–Newt Gingrich (remember him?) super PAC, has raised $50,000 for advertising.
Romney and Santorum will battle for Louisiana's precious 46 delegates this Saturday. The Wall Street Journal's delegate tracker clocks Romney in at 563 and Santorum at 261 after tonight's primary. After Louisiana, it's still far from over: The Washington, D.C., Maryland, and Wisconsin primaries are April 3.
But first: If Romney amps up his fund-raising and drastically outspends Santorum again, prepare for a lot of complaints about victory by way of a "Louisiana purchase." Which of our zany GOP hopefuls might use that opportunity for an obscure yet grandiose historical analogy?