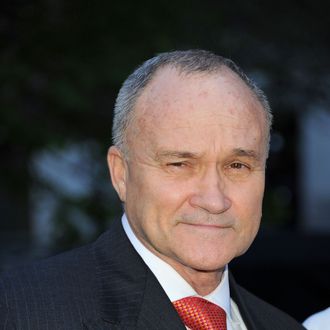 Ray Kelly.
Photo: Andrew H. Walker/2011 Getty Images
After a two-year pilot program wherein the Civilian Complaint Review Board's independent attorneys prosecuted a small number of non-criminal cases involving alleged police misconduct in the NYPD ranks, the agency will now for the first time investigate, hear misconduct claims, prosecute, and levy punishments. Previously, the CCRB reviewed misconduct allegations (for example, excessive or unnecessary use of force, abuse of authority, and discourtesy) and made nonbinding recommendations to the NYPD as to whether to pursue charges.
The new arrangement has the blessing of Mayor Bloomberg and Police Commissioner Ray Kelly, based on the success of the pilot program, they said in statements. It will strengthen "our strong monitoring and regulation of police conduct," Bloomberg wrote. But Patrolmen's Benevolent Association's boss, Pat Lynch, has not taken so kindly to the move.
"Our problem with CCRB has always been first, their predisposition that police officers are always wrong," Lynch said. "Second, their inexperienced investigators who conduct faulty investigations that arrive at improper conclusions and now those wrong conclusions will be prosecuted at these kangaroo trials."
A penguin court, maybe, but Bloomberg and Kelly are not concerned that a kangaroo court will be the result, perhaps because under the arrangement, Kelly will, "retain final discretion about disciplinary decisions, including whether officers should be suspended or placed on alternate assignment during investigations."
"Public confidence in the disciplinary process will be strengthened by having the CCRB, an independent agency, prosecuting these cases," agency Chairman Daniel Chu said.
The CCRB will add additional attorneys and staff to handle the increased workload. As far as the case volume, NBC New York writes, "On average, the CCRB refers 200 cases per year to the NYPD and recommends disciplinary action in about 137 cases, according to spokeswoman Linda Sachs." Those would include improper stops, frisks and searches.
Take note of the changes, white guys in Williamsburg.