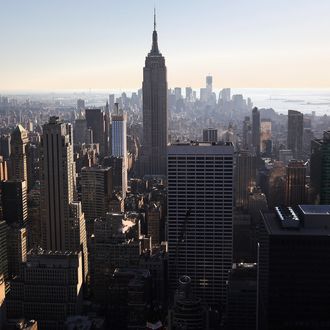 Photo: John Moore/2012 Getty Images
Out-of-towners with dreams of big city living: board the next Greyhound! Get off at the "Soho" stop — it's got the cheapest rents in Manhattan. Carrie Bradshaw lives!
Tom Lombardi, who has been living in his rent-stabilized apartment at 5 Spring Street since the forties, pays $55.01 a month in rent. The building is on the corner of Spring and Elizabeth, one of the most beautiful and expensive blocks in the city. The one-bedroom apartment would cost about $2,500 a month on the open market.
Lombardi's neighbor, Tom Combs, pays a whopping $71.23 for a fifth-floor one-bedroom apartment in the same building, where he's lived since 1967. Combs, 87, is a published poet who makes extra cash as a nude model for painting students. It pays $18.50 an hour. "They tell me I'm so good at it, I feel I have a duty to do it," Combs said. "I have an interesting face."
In January, Combs's landlord tried to evict him for hoarding books and trinkets that blocked the doorway. A judge ruled in Combs's favor.
Another nugget from this almost overwhelmingly perfect New York Post article: After the legalization of gay marriage in New York, Combs is considering marrying a 41-year-old former Nepalese lover of his who is seeking political asylum in America. The lover would inherit the apartment and its rent, just as Lombardi's younger wife will inherit his apartment when he dies. "I hope to die here," Combs said, "but not soon."
Concrete jungle where dreams are made of, etc.