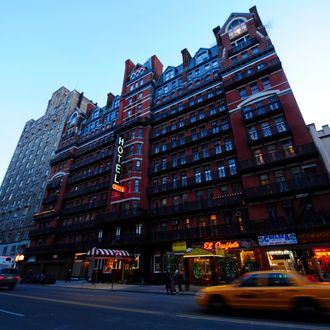 The Hotel IRL.
Photo: Emmanuel Dunand/AFP/Getty Images
In a case of the Internet imitating life, the online version of the Chelsea Hotel is in danger of shutting down. Michael Brown, whose avatar, Mykal Skall, is the proprietor of the Second Life outpost of the now perpetually embattled property, recently announced via Facebook that the virtual doors would shut due to actual money issues (while not quite as expensive as a spot on West 23rd Street, Second life real estate is not free):
>
I've tried to move things around, scale it down, etc. But I can't find a way that I can afford to continue to give the build what it needs. And quite frankly, I have enough stressers in RL, that something needs to give and unfortunately this is one of them.
Online residents and fans reacted like their offline counterparts and launched a campaign to save the space, which is apparently much easier to do when you're not competing with a man who keeps $100,000,000 in a checking account. Living with Legends, a blog devoted to Chelsea Hotel news, set up a fund-raiser, complete with rewards like virtual bronze plaques honoring users who give $200. ($100 gets you a mailbox on the property; $20 buys a bronze sunflower on the stairwell railings.) They've already received enough support to reopen, though Brown/Skall will need continued donations to sustain the project, which will now cease to reflect reality by giving two months' free rent to its old residents (instead of trying to kick them out) and taking reservations for "prime spots" (as opposed to no spots at all.)