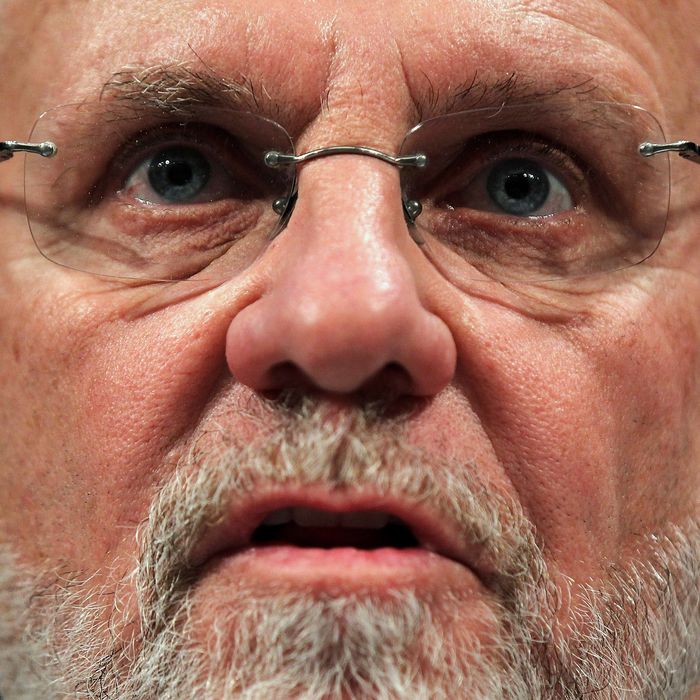 Photo: Alex Wong/2011 Getty Images
Last year, MF Global, Jon Corzine's brokerage firm, collapsed in a smoldering heap after making bad bets on European bonds. As the company unraveled, almost $600 million of its customers' money vanished. A month later, after a feverish search, investigators found $200 million of it sitting in London, of all places, on J.P. Morgan Chase's books.
How it got there was, then, a mystery. Today, Bloomberg reveals that then-CEO Jon Corzine explicitly ordered the transfer in the hopes of squaring away an overdrawn J.P. Morgan account. According to an October 28 memo sent by Edith O'Brien, a treasurer at the firm, the money was transferred "per JC's direct instructions." Three days later, the company collapsed.
O'Brien's e-mail is now in the hands of congressional investigators. When Corzine testified before Congress on December 8, he said he had no idea where the $200 million had gone. "I did not instruct anyone to lend customer funds to anyone," he insisted.
In recent weeks, the bankruptcy trustee tasked with getting the firm's customers their money has indicated an even bigger shortfall than originally thought: $1.6 billion.
In the chaotic week that preceded the bankruptcy, MF Global executives fought desperately to save the business. As the firm struggled to meet its obligations, it desperately needed liquidity. Owing to the overdrawn account, J.P. Morgan may have been hesitant to help. Vinay Mahajan, the firm's global treasurer, wrote in an October 28 e-mail that J.P. Morgan would "hold up vital business in the U.S." unless the overdrawn account was "fully funded ASAP."
The $200 million that eventually arrived wouldn't have been enough to save the firm. But it could be more than enough to land Jon Corzine in hot water. The money was transferred from a "segregated customer account," which can include both customer and company money. Using customer funds to fix up an overdrawn company account is illegal.
The story will continue in the next week as other MF Global executives take the stand. A J.P. Morgan representative will also testify, although the recent bombshell looks pretty good for them. According to Bloomberg, the British bank wrote a letter to MF Global regarding the transaction, hoping to ensure that any money to fund their account would be segregated from customer collateral. They wanted to get O'Brien's signature. But the letter was never returned.
Update: A statement from Mr. Corzine's spokesperson, Steven Goldberg:
As Mr. Corzine testified before Congress, he asked that the overdrafts with JP Morgan be corrected. As he also testified, he never gave any instruction to misuse customer funds and never intended anyone at MF Global to misuse customer funds.  He further testified that he didn't believe anything he said could reasonably have been interpreted as an instruction to misuse customer funds.  He stands by that testimony. 

He never directed Ms. O'Brien or anyone else regarding which account should be used to cure the overdrafts, and he never directed that customer funds should be used for that purpose.  Nor was he informed that customer funds had been used for that purpose.   To the contrary, as Mr. Corzine testified, he recalls having received written material indicating that the funds used to cure the overdrafts were appropriate for that purpose.