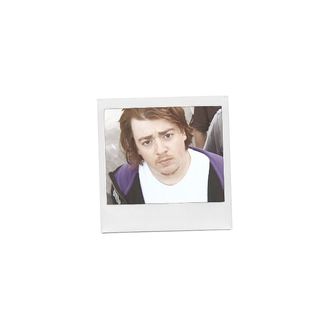 Danny Tamberelli.
Photo: Derek Sexton
Name: Danny Tamberelli
Age: 30
Neighborhood: Park Slope
Occupation: Comedian/Bassist/Songwriter; You can catch him this Friday at 11 p.m.  at The Pit with Adventures of Pete & Pete counterpart Mike Maronna at "Night of the Living!", a comedy talk show hosted by Kurt Braunohler.
Who's your favorite New Yorker, living or dead, real or fictional?
Robert Moses. The old school BK Dodgers/NY Giants fans might disagree, but he really improved the infrastructure of the city.  He built new housing, playgrounds, and parks — not to mention Lincoln Center and my beloved dump Shea.
What's the best meal you've eaten in New York?
Brooklyn Bowl's fried chicken, collards and mac and cheese … I fiend for their homemade hot sauce.
In one sentence, what do you actually do all day in your job?
I teach what I love (bass) and get to create music and comedy.
What was your first job in New York?
I drove a box truck around all five boroughs for my family's wine business, Vinvino Wine Co. (Oldest Italian wine company in Manhattan, since 1909.)
What's the last thing you saw on Broadway?
American Idiot.
Do you give money to panhandlers?
Sometimes — it's on a case by case basis, but I always give my leftovers away. Once I gave a guy a slice of pizza and he said, "How 'bout some money? I'm lactose intolerant." 
What's your drink?
Gin, bitters, lime with my homemade seltzer. It's a game changer.
How often do you prepare your own meals?
Not often enough, maybe four to five times a month. I'm a takeout junkie. 
What's your favorite medication?
Any one with a sticker that says, "May cause drowsiness or dizziness."
What's hanging above your sofa?
A piece of art made by one of my best friends. It's a subway station painted on street maps of the five boroughs.
How much is too much to spend on a haircut?
I get my hair cut once every two years so my annual haircut expense is low.
When's bedtime?
When my eyes can't stay open anymore. I'm a random night owl. If there's something worth staying up for, I'm in.
Which do you prefer, the old Times Square or the new Times Square?
Old Times Square. I was a little kid coming into the city from NJ and thought it was so seedy, but I enjoyed the excitement. I used to audition in that area in the late eighties, early nineties. My mom got her stereo stolen out of the car on 50th and Eighth, so I had cool NYC story to tell the suburban third graders. That allure is gone now … unless you like to eat in the street, which I don't.
What do you think of Donald Trump?
The man has swagger and all that swag sauce lives under that magical hairdo.
What do you hate most about living in New York?
Cable TV wars. Just let me watch all NY sports for God's sake!
Who is your mortal enemy?
Linda Swift and her NYC marshals.  A guy can forget to pay a couple tickets sometimes but Linda keeps you on your toes.  She won though, and now I pay on time. Twice was too many tows, four is enough.
When's the last time you drove a car?
… Where's my car?  Damn you Linda Swift!
How has the Wall Street crash affected you?
My cost of living has gone up, but my rates have stayed the same or gone down. 
Times, Post, or Daily News?
Times.
Where do you go to be alone?
Back when I lived on 3rd and C in the alphabet, we had our own backyard and that was my sanctuary.  Now though, it's the rooftop or an aimless walk around with headphones.
What makes someone a New Yorker?
Thick skin, sharp tongue, heart on sleeve and someone who has a real love for the city.  That and a love for real pizza pie like John's of Bleecker.