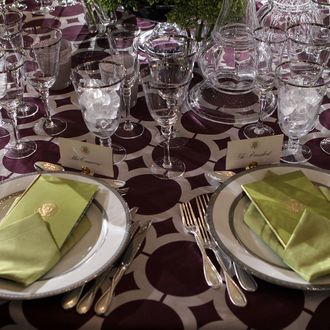 Photo: Alex Wong/2012 Getty Images
Obama hosted British Prime Minister David Cameron and many other fancy people at a White House state dinner this evening. After Obama and Cameron's raucous boys' night out in a crucial swing state, tonight's dinner will be a refined affair, with no hot dogs on the menu.
The theme of the dinner is "America's Backyard," interpreted by Bryan Rafannelli and his team (who also planned Chelsea Clinton's wedding) to mean "purple." The White House explained: "Planters and centerpieces used at the dinner are intended to emulate nature and the flowing 'landscape gardens' that are common in England."
An eerily quiet CBS News video of the dinner tables includes an extended close-up on glasses of water already filled with ice, which just seems impractical (what if the ice melts and the glasses are too full? what if the water gets less cold?). Cameron will presumably be made much more comfortable by the presence of Hugh Bonneville, a.k.a. the Earl of Grantham, the Downton Abbey character who is perpetually taking off and putting on his robe. Other guests of honor include George Clooney, Anna Wintour, Antonin Scalia, Richard Branson, and Ed Koch. John Legend and Mumford & Sons will preform. Legend is a favorite of the Obamas; Mumford & Sons a favourite of the Camerons.
What did they eat? A variety of locally sourced delights, of course! Dessert was "Warm Meyer Lemon Steamed Pudding with Idaho Huckleberry Sauce and Newtown Pippin Apples."