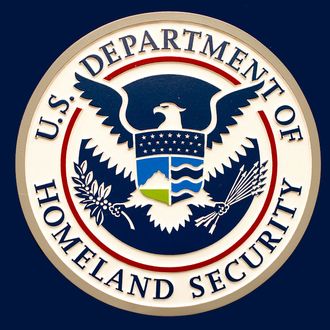 While the NYPD gets criticized for morphing into what increasingly looks like a federal intelligence agency (pushing the FBI's buttons in the process), the Department of Homeland Security is basking in cautious accolades for its surprisingly respectful coverage of the now six-month-old Occupy Wall Street protests. As early as last October, officials in the DHS's Office of Civil Rights and Civil Liberties reacted negatively to an intelligence bulletin out of Pittsburgh, which saw its own Occupy action; they believed the bulletin advocated unlawful surveillance of "activities protected under the First Amendment." Another office flat-out decided to avoid the Occupy topic altogether, while the agency soon after released guidelines that "DHS should not report on activities when the basis for reporting is political speech."
The findings came from a trove of nearly 400 pages of internal documents and memos that Gawker received as part of a Freedom of Information Act (FOIA) request. As the site's John Cook summarized:
The documents released today show pretty definitively that no one from DHS headquarters played a role in the crackdown — though that doesn't mean that officials at various fusion centers weren't involved.
In fact, the documents show DHS officials quite explicitly washing their hands of more aggressive intelligence gathering conducted by these fusion centers, which coordinate regional law-enforcement activities. In one case, an L.A. fusion center asked the DHS for all arrest and criminal records relating to Occupy Wall Street, to which the agency simply replied: "Arrests being made at these protests are a criminal matter and the protesters are engaged in constitutionally protected activity."
So, good job DHS! How constitutionally upstanding of you!
Which is what we thought until we got to the bottom of the story and saw an excerpt from an internal memo, which raised our 'ulterior motive' antenna.
I think should the FOIA experts find it appropriate to release information about the manner in which this issue was managed within DHS, it could only be perceived as a positive by those in the public who closely observe the Department.
The agency clearly saw good PR spin to be had, which doesn't automatically imply that DHS is fudging its record on the issue, but it stood out all the same.
After all, the DHS has come under criticism of its own in recent months. Just a month ago, for instance, the House Homeland Security Committee held a hearing on "DHS Monitoring of Social Networking and Media," after which chairman Patrick Meehan warned that, "collecting, analyzing, and disseminating private citizens' comments could have a chilling effect on individual privacy rights and people's freedom of speech and dissent against their government."
Though the agency's chief privacy officer assured the panel that "no element of First Amendment speech is collected, disseminated or analyzed," the Electronic Privacy Information Center begged to differ. Citing information it wrung from the agency after first filing an FOIA request and later suing it for dillydallying, the group found that DHS had paid a contractor to, among other things, track comments and activity that "reflect adversely on the U.S. Government [and] DHS."
An agency that was established to help protect the United States against future foreign attacks is now deploying its significant resources to monitor political opposition and the work of journalists within the United States. It has no legal basis to do so, and in pursuing the monitoring of social networks and media organizations for activities that "reflect adversely" on the agency and the US government, it has transformed its purpose from protecting the American public to protecting simply itself.
While the House committee has not launched an official investigation or handed down a rebuke, maybe the Department of Homeland Security could use the good Occupy-related publicity after all.