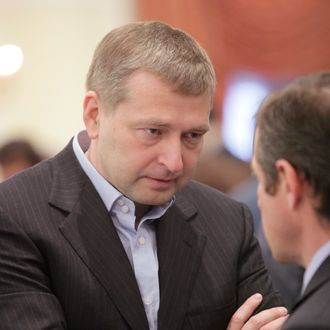 Dmitry Rybolovlev.
Photo: Bloomberg/2010 Bloomberg
Back in December, Russian billionaire/fertilizer magnate/suspected-killer-of-his-business-associates Dmitry Rybolovlev purchased an $88 million, 6,700-foot apartment at 15 Central Park West. It was ostensibly a pied-a-terre for his college-aged daughter, and thus a gift deeded over in her name. But the transaction raised a few eyebrows: Rybolovev was in the middle of a nasty divorce from his wife of 24 years, and a source told the Observer back then it was a way of protecting his assets. New York City has a notoriously large residency tax loophole, as a piece in this week's New Yorker details. That wife, it seems, was among those with raised eyebrows.
Yesterday, Elena Rybolovleva filed a lawsuit alleging that the transfer to his daughter was "fraudulent," and an illegal attempt to get around those residency rules. The papers point out the the couple's daughter doesn't attend college in the city. Her lawyer added to the Post, "That apartment is large enough to house her whole undergraduate class if she goes to school here." Mrs. Rybolovev also says that the couple looked into a buying a place in the exact same building — for themselves— before their marriage went bust. But this guy seems so moderate! The only other things he's bought recently were a $95 million Palm Beach home that used to belong to Donald Trump, and "part of a soccer team in Monaco." Give him a little credit. It's not like he's going around buying whole sports teams!