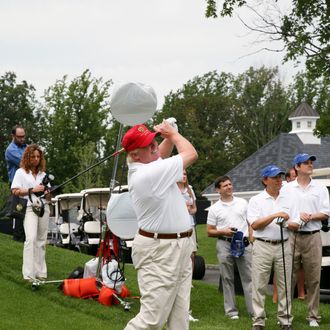 Photo: Rick Odell/2008 Getty Images
Some tony members of Trump International Golf Club in West Palm Beach are grousing about more than bogeys or frustrating sand traps.  Membership in the club with its lushly manicured grounds and gilded gate, 58-foot waterfall, 3 million cubic yards of dirt repurposed into rolling hills, and celebrity visitors like Tom Brady and Greg Norman costs $150,000 for the initiation fee and $25,000 per year. This season, in a bold business move, Donald Trump decided to offer initiation-free memberships to shore up his coffers and attract duffers away from his competition like the Falls and High Ridge.  It worked: 70 new golfers signed up, but those who had shelled out $150,000 were not smiling.
"He's not stupid, he just pissed off a lot of members,'' said one former Trump golfer.  "Guys are complaining that with all the new players, there's a wait to tee off on weekends.''
 "I love the club, but some people who just paid the initiation are particularly upset,'' said a current member.
 After 2008, Palm Beach suffered a one-two punch from Bernie Madoff and the recession, and private clubs saw a downturn, which Trump tried to correct. 
"In Florida, which is just coming out of a depression, I wanted to take in 70 members and I waived the initiation fee,'' confirms Trump.  "Over the years, people here leave a club, or leave the earth, and now I have really wonderful new members.  They got a good deal.  That's called luck.  Welcome to the marketplace.  They are so happy, they will be with us for life."
And, he says, he's raising the initiation to $250,000, so those who paid $150,000 should also feel lucky.  "They should be happy,'' says Trump. "At some point, the initiation will go up to $400,000.''