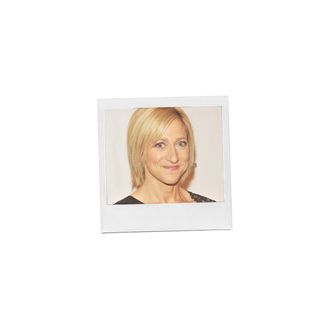 Edie Falco, Opening Night Arrivals for The Gershwins' "Porgy and Bess" The Richard Rodgers Theatre, NYC • January 12, 2012
Photo: Stephen Lovekin/Getty Images
Name: Edie Falco
Age: 48
Neighborhood: Tribeca
Occupation: Actor. She'll be appearing March 29 at the 92Y in a discussion with Nurse Jackie cast members Bobby Cannavale and Merritt Wever and executive producers Liz Brixius and Linda Wallem.
Who's your favorite New Yorker, living or dead, real or fictional?
Lou Reed. He just personifies the city. He's kind of mysterious and talented and dark and sort of unrelenting in a way. And I see him on the streets once in a while. He fits in perfectly with the streets and the traffic.
What's the best meal you've eaten in New York?
Perry St. Restaurant in the Richard Meier building. I've had a million meals there but recently I had a bass that was delicious.
In one sentence, what do you actually do all day in your job?
Wait around laughing at co-workers with great senses of humor.
What was your first job in New York?
Waitressing at West 4th Street Saloon (long gone). I was in college. At that restaurant in particular there was an outdoor area, and if you waitressed outside and they walked out on their check you were responsible for it. So I remember hauling ass down the street after people trying to walk out on their check. I also remember one shift I made $14 and I spent $14 on a cab getting home uptown, which is where I lived at the time. Crazy years. Lots of years of that, too. 
What's the last thing you saw on Broadway?
Porgy and Bess. It was just brilliant. The music was spectacular and the performances were great.
Do you give money to panhandlers?
Only when my kids (ages 7 and 4) are with me.
What's your drink?
Fresca. Straight up. (Actually, depends on mood and the situation. Any way, I like it. )
How often do you prepare your own meals?
Once every two years.
What's your favorite medication?
Nexium. For eating too late at night and all that stuff.
What's hanging above your sofa? 
A wacky chandelier. It's made by a French artist whose name I should know, and it's kind of a crystal chandelier but it almost looks like it's been through the washing machine or something — it's all cock-eyed and crazy. I really loved it when I first got it, and I now I kind of want it to go away. But it was really, really expensive and I don't normally spend that kind of money on furnishings for my house so for that reason alone it will stay where it is.
How much is too much to spend on a haircut?
Five dollars; but I'll pay whatever they charge.
When's bedtime?
10:30 p.m. And I'm up at six. Early to bed, early to rise.
Which do you prefer, the old Times Square or the new Times Square?
New. When I first came here, I was afraid of it, to be honest with you. It creeped me out a bit. I had always lived on my own in Manhattan and I was a young kid out of school and it scared me. I didn't know where I was supposed to walk, where it was safe, and I was always being approached by strange people, and frankly I'm glad that's not the case any more. And who knows: Maybe if I was then the person I am now, I wouldn't care quite as much.
What do you think of Donald Trump?
He's a powerful guy and on some level I don't want to be on his bad side.
What do you hate most about living in New York?
People littering in front of me. I don't say anything about it. I just go right up to them and I say, "Excuse me" and I lean down in front of them and I pick up their litter and I go throw it away. I just want to make sure they see me pick up their litter.  And for the most part they are mortified.
Who is your mortal enemy?
Aggressive drivers — no joke — look out. Road rage can get really dangerous. 
When's the last time you drove a car?
Five days ago.
How has the Wall Street crash affected you?
I get paid less.
Times, Post, or Daily News?
I'm supposed to say Times.
Where do you go to be alone?
Out of New York, to my house on Long Island. It's my respite.
What makes someone a New Yorker?
A low-grade disgust and hatred for this city and an unequivocal inability to live anywhere else.