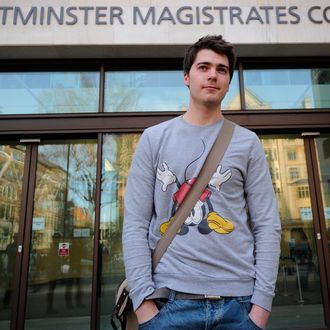 Photo: CARL COURT/2012 AFP
The legal case against Richard O'Dwyer, the 23-year-old student who founded TVShack.net, got even more complicated tonight when lawyers appealed his extradition from the U.K. to the U.S. O'Dwyer's extradition was approved on March 13 by U.K. Home Secretary Theresa May. O'Dwyer's lawyers had until Monday to appeal.
The TVShack domain was seized in June 2010 after U.S. Immigration and Customs brought a copyright infringement case against O'Dwyer, claiming that the TV and movie site earned $230,000 in ad revenue. If O'Dwyer is extradited and found guilty in the U.S., he could face up to five years in prison. His mother, Julia O'Dwyer, has said she believes her son was "sold down the river" by the government.