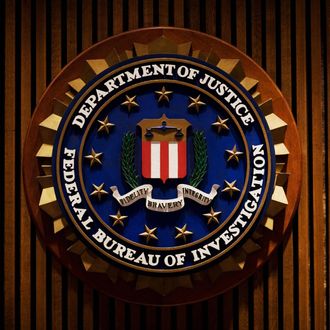 Photo: MANDEL NGAN/2007 AFP
Half a year after Wired published excerpts from FBI counterterrorism manuals that posited that sympathizing with terrorists was a "mainstream" Muslim value, the magazine's Spencer Ackerman reports that the organization has removed some "offensive" and "inaccurate" language from its training materials, including instructions such as, "Never attempt to shake hands with an Asian. Never stare at an Asian. Never try to speak to an Arab female prior to approaching the Arab male first," along with the assertion that Arabs have "Jekyll and Hyde" personalities that make them prone to "outbursts and loss of control," unlike "even-keeled Westerners." Also removed was the statement that, "under certain circumstances," agents have "the ability to bend or suspend the law to impinge on the freedom of others." 
The problems with the documents, which have been under review over the last six months, were detailed in a letter sent by Senate Judiciary Committee member Richard Durbin to FBI head Robert Mueller. In the letter, Durbin requested that Mueller to "reassign officials responsible for the offensive material" and reminded him of an agreement, apparently made in December, to "identify FBI agents who [received] inappropriate training." Durbin told Wired's Danger Room blog: 
"This is not an effective way to protect the United States … It's stunning that these things could be said to members of our FBI in training. It will not make them more effective in their work and won't make America safer. Those responsible for some of the worst parts of this should be reassigned. I want FBI agents who were exposed to some of these comments to at least have a chance to be spoken to and given valid, positive information that can help them."
However, Durbin added, sufficient reform does not seem to be taking place, at least so far. While the FBI and the Department of Justice recently published memorandums saying training materials must be "consistent with the Constitution and agency values, including by not disparaging groups or individuals based on characteristics like race, religion, or national origin" and that those supervising trainees should be "knowledgeable experts in the topic," no officials have faced disciplinary action related to the inquiry.