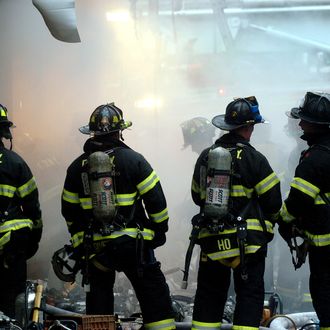 Photo: New York Daily News Archive/2006/Daily News, L.P. (New York)
New York City will be made to apologize for not hiring firefighters of color by paying up to $128 million to applicants who were not hired based on a test that was ruled discriminatory. Approximately 2,200 would-be minority firefighters from the class of 1999 and 2002 could be eligible for back pay that "will be subject to reductions for the actual earnings of each plaintiff during the period," the New York Times reports. The department has been 97 percent white (and allegedly quite racist) basically forever.  And it's all dudes, too.
The Daily News reports that there are currently 24 female firefighters in the FDNY, three decades after a court forced the department to accept 41 women. On the bright side, 3,481 women are signed up to take the test next week, almost three times as many as last time. At the moment, the FDNY is 500 people short, which equals about $230 million in overtime pay.
A recruitment commissioner called the job "very physical," and said, "I don't know that every woman wants to be a firefighter. Our job is to go out and find women who do." 3,481 seems like a decent number to choose from, so best of luck to everyone involved.