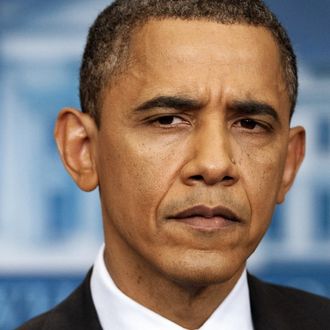 Photo: SAUL LOEB/2012 AFP
Monday was a bad day for Barack Obama. A New York Times/CBS poll released last night found 47 percent of respondents disapprove of how Obama is doing his job, and a Washington Post/ABC News poll released this morning revealed 50 percent of its respondents disapproving of the president. This is "a dangerous position for any incumbent seeking re-election," in the Times' delicate phrasing.*
Obama's approval rating picked up some steam last month, climbing to 50 percent, aided by a strong jobs report and the long, sad circus of the Republican primaries. So what happened? The price of a gallon of gasoline rose 12 cents over the last two weeks, and the NYT/CBS poll found that 54 percent of Americans believe the president can strongly influence gas prices. Quoth the Times:
"I think just being the president of the United States of America, you would have some type of control over gas pricing," said Jamie Haber, 39, an independent voter of Orlando, who voted for Mr. Obama in 2008 but says he will not this year. "We're out here doing everything we can to make a living and gas prices keep going up," he said in a follow-up interview.
Whether or not you'd characterize Obama's approval ratings as being in "total freefall," the numbers sure are getting tight. The NYT/CBS poll finds that Obama retains a slight lead in a hypothetical matchup with Romney — 47 to 44 percent — but hardly an encouraging one for Team Obama considering the poll's 3 percent sampling error. Obama maintains a similarly thin margin against Rick Santorum: 48 percent for the President, 44 percent for Santorum.
Of course, the circumstantial nature of polling makes polls pretty unpredictable. A Gallup poll also released on Monday found that Obama's approval rating increased from 43 percent at the beginning of last week to to 49 percent over a mere 72 hours this weekend. The president may have predicted this when he told a college audience in Miami last week that the Republicans were giddy over rising gas prices:
"Only in politics do people greet bad news so enthusiastically. You pay more, and they're licking their chops? And you can bet that since it's an election year, they're already dusting off their three-point plans for $2 gas…It's the easiest thing in the world to make phony election-year promises about lower gas prices. What's harder is to make a serious, sustained commitment to tackle a problem that may not be solved in one year or one term or even one decade."
Of course, the impending Doomsday of Israel attacking Iran and yesterday's massacre in Afghanistan probably isn't making Americans feel great about the state of things, either. 
*A previous version of this post incorrectly stated that the new approval ratings were an all-time low.