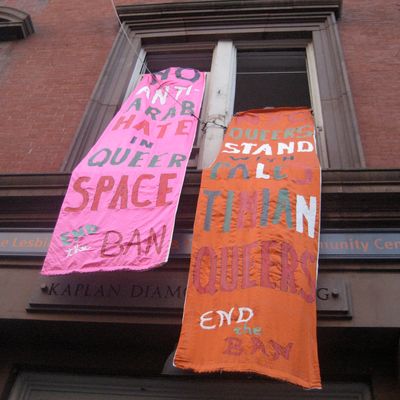 Most Saturday afternoons, the lobby of the 29-year-old, red-brick Lesbian, Gay, Bisexual and Transgender Community Center on West 13th Street — which everyone just calls "The Center" — is filled with people darting discreetly in and out of an array of twelve-step meetings, or with various cliques of gay and transgender New Yorkers catching up between sessions as diverse as "Bi Women of all Colors" and "New York Boys of Leather." But last Saturday afternoon, it was filled with an angry crowd of about 150 folks carrying signs that read "FREE GAZA, SOLIDARITY WITH PALESTINIAN QUEERS," and, "DESTROYING PALESTINIAN VILLAGES: JUST NOT FABULOUS." "Anti-Arab hate! Queers, don't take the bait!" chanted the crowd, whose speakers featured the queer-theory academic star Judith Butler and reps from Palestinian Queers for Boycott, Divestment and Sanctions and Young, Jewish and Proud. At the end of this non-violent "occupation" of the Center, the group dropped two bright banners from the building's second-floor windows. "NO ANTI-ARAB HATE IN QUEER SPACE: END THE BAN," read one. 

What ban? What was going on? Wasn't it weird enough that as hyperlocal and non-Middle-Easty a place as the Park Slope Food Coop had recently become embroiled in a controversy over whether it should carry Israeli products, especially when it hardly carries any? How on earth had the Center, an organization best known for housing groups dealing with gay rights, substance use, gay parenting and HIV/AIDS, crossed wires with the Israeli-Palestinian conflict?

It all began a year ago, when the Center, which has a long history of renting space to all manner of groups, not all of which are entirely gay or gay-related, agreed to host a party for the group Siege Busters, which opposes the Israeli naval blockade of goods coming into Israeli-occupied, Palestinian-populated Gaza. The Russian-born Jewish gay porn kingpin Michael Lucas, whose rich investor boyfriend was once on the Center's board, complained, threatening to organize a funders' boycott against the Center. (Lucas has long spoken out in defense of Israel and in criticism of Islam.) 

The Center acquiesced, canceling the group's party and banning them from further meetings. But a few months later, somewhat bafflingly, the Center green-lighted space for another, similar group called Queers Against Israeli Apartheid … only to turn around shortly thereafter and ban that group, not to mention all groups having anything to do with the Israeli-Palestinian crisis. "Providing space for organizing around the Israel-Palestine conflict strains resources and undermines our ability to ensure a supportive and neutral environment for everyone," the Center said in a statement. Center executive director Glennda Testone recently declined to talk to New York.

The controversy pits the Center's tradition of being a neutral open forum against its struggle to define where it draws the line in terms of groups it rents space to. In the past, it has banned groups only rarely, including the North American Man/Boy Love Association, a pederasty advocacy group widely reviled in the gay community. It has rarely, if it all, housed groups that didn't in some way directly pertain to issues facing LGBT people in the New York area. "What do those groups have to do with the venue?" Lucas asks of the groups he helped get banned. "This issue is not a gay agenda, it's an anti-Israel agenda. And the majority of gay people are indifferent to this issue or they're pro-Israel and common-sense."

But Saturday's protesters felt differently. "Palestinian queers have reached out to us," said Emmaia Gelman of Queers Against Israeli Apartheid, "and you can't fight for queer rights in a state with no civil society." Several protesters, many of whom said they were Jewish, invoked what they called pinkwashing, Israel's alleged touting of its progressive stance on gay rights as a way of deflecting global attention away from its treatment of Palestinians. Steve Ault, a founding Center board member who supports the protesters but wasn't there on Saturday, says the Center is practicing exceptionalism by banning groups related to the Middle East issue. "There are several African-American groups at the Center," he noted. "Are they not supposed to ever discuss racism?"

Some Center longtimers see what they call the Center's "reactive" response to Lucas's threats as reflective of an organization that, in nearly 30 years, has gone from a staff and board made up of scrappy community activists to one made up of well-paid corporate professionals intent on retaining public and private funding for the Center's professional social services, which have mushroomed over the years. They said the Center refused to either confirm or deny rumors that politicians such as Rep. Jerrold Nadler had leaned on the organization to pull the controversial groups. (Nadler's office declined to do so as well.) And they said that Testone, director since 2009, simply did not have the power at the Center yet to hold her ground on organizational decisions — a power that the widely respected former director, Richard Burns, accrued over more than twenty years.

"None of this would have happened under Richard," said Ann Northrop, a longtime LGBT activist who moderated a forum at the Center last year on the issue — a forum where, she said, Lucas "wouldn't shut up" and was "arrogant, mean and derogatory." She added: "I suspect Richard would just have told Lucas to calm down and go away." 

Meanwhile, perhaps in an attempt to avoid looking like a total heavy, the Center hasn't stopped the protesters from congregating regularly in its lobby, as they did Saturday. It may not be prime space, but at least they avoid paying rent.