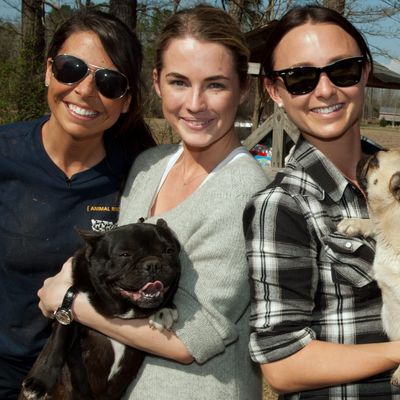 The HSUS assists the Jones County Sheriffís Department on a puppy mill. Ashley Mauceri, Deputy Manager, Animal Cruelty with The HSUS, Georgina Bloomberg and Amanda Hearst at the North Carolina puppy mill rescue.
Photo: Kathy Milani/The HSUS
Georgina Bloomberg, in addition to being an heiress,  equestrienne, published young adult-novelist, minor-league baseball player's girlfriend, and enthusiastic Target shopper, is also now an animal-rights activist with true street cred. Yesterday, she and fellow socialite Amanda Hearst joined forces with the Humane Society for a raid on a North Carolina puppy mill, which freed 88 puppies and one pregnant cat. City and State reports:
>
Bloomberg and Hearst went onto the property right after six officers from the Jones County Sheriff's Department secured the scene, said Captain Justin Eimer, the department's chief of operations.
The pair was at the vanguard of the photo-op portion of the raid, however.