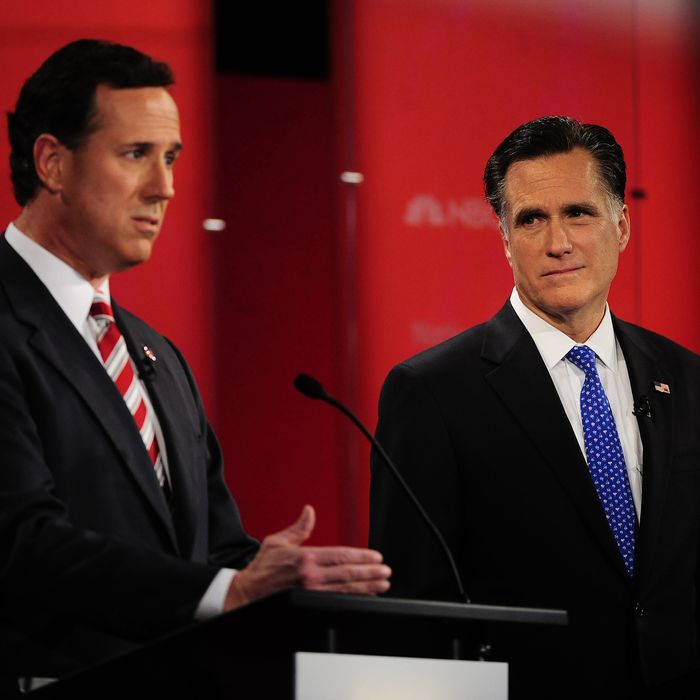 Santorum: "I'm all about bang for my buck." Romney:
Who cares, I'm going to drown you in money.
Photo: Emmanuel Dunand/AFP/Getty Images
This morning, Mitt Romney told Fox News's Bret Baier that the focus on "delegates and math" is really only interesting to political insiders, while American voters are focused on vision. However, the inevitable mathematics of his own slow delegate accumulation is about the only selling point Romney really has left — that and his campaign's ability to deploy vast financial resources pretty much anywhere in the country. After all, as Baier pointed out, Romney's campaign has spent $15.83 per vote — seven times more than Rick Santorum's $2.28 per vote. (Gingrich and Ron Paul are somewhere between the two.) Factor in the money from the candidates' super PACs and Romney is spending $26.14 per vote, or five times as much as Santorum's $5.14. As Romney sees it, this truly daunting advantage makes him uniquely qualified to go up against the dreaded billion-dollar Obama reelection machine, but it does also point to the continuing weakness of his candidacy.
Though the Associated Press has slightly different numbers — $12.70 per vote for Romney's campaign versus $3.01 per vote for Santorum's campaign — the picture is pretty much the same. Including when it comes to delegates: over $90,000 per delegate for Romney versus less than $30,000 for Santorum. (Ron Paul has spent a whopping $130,000 per delegate so far.) Big money being splashed around on politics is nothing new, but with thousands of delegates left and millions of votes yet to be cast,  hundreds of millions will be pouring onto the airwaves in the coming months.
As for the Romney campaign, they will almost certainly have the money to play this game through to the end — we're not sure the same can be said for Santorum and stubbornly still-running Gingrich, who is also paying a pretty high premium for his own votes and delegates. But focusing too much on the organizational side of the campaign may turn out to be dangerously short-sighted, as Bush '04 and McCain '08 adviser Mark McKinnon writes in an open letter to Romney staffers.
Now you are in a delegate battle, which you are likely to win. But now you'll be criticized by everyone (again including me) that your campaign is all about mechanics and no music.
With his 57-point plans and awkwardly managerial speak, there really isn't very much that's lyrical or smoothly spontaneous about Romney. This will be a major drawback when facing off against Obama, who is the personification of slick in comparison. Well, that and Romney's continuing inability to speak about money, which was on full display yesterday when he assured a town hall in Collinsville, Illinois, that, "I am not in this race to make money. I've already made enough." Translation: I am just so freaking rich I don't have to ever work again, unlike all you sorry paycheck-to-paycheck saps.