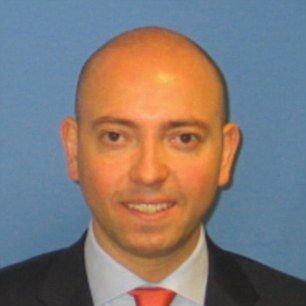 Greg Smith, Whistleblower and Table Tennis Bronze Medalist
Jake Siewert, are you excited to dig in at your brand-spanking-new job as head of PR for Goldman Sachs? You will want to do some reading on Greg Smith over breakfast. He was, until today, head of the Goldman Sachs's United States equity derivatives business in Europe, the Middle East, and Africa. He was also at one time a South African, a ping-pong champion, and a Rhodes Scholar finalist. We can also presume that he is a big Jerry Maguire fan, since he decided to quit that fancy job in the most dramatic way possible: with an op-ed in the New York Times in which he takes the firm to task for losing its way both morally and culturally.
Smith, who worked with the firm's recruiting program for more than a decade, writes, "I knew it was time to leave when I realized I could no longer look students in the eye and tell them what a great place this was to work." That's the schmaltzy part. The juicy part is when he slags on the firm's leadership:
What are three quick ways to become a leader? a) Execute on the firm's "axes," which is Goldman-speak for persuading your clients to invest in the stocks or other products that we are trying to get rid of because they are not seen as having a lot of potential profit. b) "Hunt Elephants." In English: get your clients — some of whom are sophisticated, and some of whom aren't — to trade whatever will bring the biggest profit to Goldman. Call me old-fashioned, but I don't like selling my clients a product that is wrong for them. c) Find yourself sitting in a seat where your job is to trade any illiquid, opaque product with a three-letter acronym.
And he doesn't spare the youths, either: "These days, the most common question I get from junior analysts about derivatives is, 'How much money did we make off the client?'"
How did Goldman really feel about its clients? "Over the last 12 months I have seen five different managing directors refer to their own clients as 'muppets,' sometimes over internal e-mail." (In Britain, "muppets" are idiots, not Kermit and Grover.) But probably the funniest part? That's when Smith writes about how Goldman Sachs needs to restore a culture of humility, and then proceeds to not only list the aforementioned facts about his near-Rhodes scholarship and his "bronze medal for table tennis at the Maccabiah Games in Israel, known as the Jewish Olympics," but also to list his professional achievements.
Over the course of my career I have had the privilege of advising two of the largest hedge funds on the planet, five of the largest asset managers in the United States, and three of the most prominent sovereign wealth funds in the Middle East and Asia. My clients have a total asset base of more than a trillion dollars. I have always taken a lot of pride in advising my clients to do what I believe is right for them, even if it means less money for the firm. This view is becoming increasingly unpopular at Goldman Sachs. Another sign that it was time to leave.
Who needs LinkedIn when you've convinced the New York Times to print your résumé? Any investment banks who are seeking a morally upstanding ping-pong expert with a penchant for laying bare his employer's rapacious greed should contact Mr. Smith immediately.
Update: The Times newsroom, with a heads-up on its competition that such a bomb was going to drop, reported on the anticipated reaction to the story in the banking community."Even on Wall Street — where making money is good, and making more money is better — a few shibboleths still command respect, including the one that the customer should come first, or at least second, not dead last," the paper explains. "Since the financial crisis, in fact, nearly all the big banks have claimed to be client-centric as they seek to rebuild public trust," which, of course, is exactly the myth that Smith's op-ed sought to explode. Josh Brown, an investment adviser who writes at the Reformed Broker, doesn't buy Smith's narrative of a companywide fall from grace: "The 'culture' of Goldman Sachs was, is and always will be about making money, often at the expense of a client … Deal with it or leave and open an Etsy store." (Is that Smith's plan? Bespoke ping-pong paddles, maybe?)
Smith will undoubtedly face more push-back in the finance community, but he's already getting criticism from other quarters, too, for his perceived hypocrisy. "Where will Greg Smith be donating his self-described ill gained Goldman Sachs salary?" asked Reuters's Anthony DeRosa on Twitter, who called the letter "awfully opportunistic and a little late." But would a fuck-you, I'm leaving letter from a second-year analyst have been taken seriously or generated conversation like this? Or would people have cared as much if it had been written pre-2008? Probably not!
Still others, like Dan Gross, poked fun at the excitement the op-ed generated. "Over/under on when the Goldman ping-ponger gets a book deal. I say 1 p.m. (publishers sleep late), and I take the under." If Smith does, he might want to worry about his reviews. Times book critic Dwight Garner: "Goldman Sachs guy lost me at 'secret sauce.'"
Update 2: Goldman Sachs' top brass responded, via an internal company memo leaked to Politico. Rather hilariously, Lloyd Blankfein and Gary Cohn cite the positive results of an internal survey, the "People Survey" as evidence that the corporate culture there is just fine:  89 percent of Goldman Sachs bankers said that Goldman Sachs employees did an excellent job of helping their clients — that is, of being Goldman Sachs employees. 11 percent of Goldman Sachs bankers apparently do not like themselves.