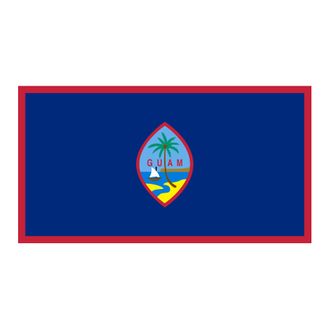 Guam's flag apparently says "Guam" on it, which is helpful.
With Super Tuesday out of the way, the focus of the Republican race turns to the next major battleground … Guam! Wait, Guam? Yes, apparently, Guam! Guam, like other territories of the United States, does not have any electoral votes and can't vote in the presidential election, but the GOP lets it hold a primary and send delegates (nine, to be exact) to its convention anyway — probably so that a couple of lucky people have an excuse to visit Guam every once in a while. One of those lucky people this year is Matt Romney, who has been dispatched to the remote Pacific island by the Romney campaign. The Santorum campaign can't really afford to send a surrogate to Guam (a round-trip ticket costs at least $1,743, according to Kayak), so instead, the candidate himself is wooing the Guamanian establishment over the phone. As the Pacific Daily News reports:
Sen. Frank Blas Jr., who was one of the Guam Republican leaders whom Santorum spoke [to] by phone, said the call-in was initially scheduled to last about 30 minutes. The phone conversation lasted more than an hour instead, because Santorum wanted to hear more about Guam issues.
Translation: The phone call was initially scheduled to last 3o minutes, but it went on for more than an hour because Santorum is desperate for delegates and had no choice but to humor Blas as he embraced this rare opportunity to gripe about Guam-related issues to an American politician. But pretending to listen to Guamanian concerns while playing Minesweeper and occasionally saying "uh-huh" was not Sanotrum's only act of deference to Guam's momentarily powerful Republican Party. Apparently, Santorum made a joke a while ago about banishing liberal activist judges to Guam, a joke that Santorum suddenly regrets very much: 
Santorum apologized for his comment about Guam, said Blas, who is running for congressional delegate against Democrat incumbent Madeleine Bordallo.

"It was very sincere," Blas said, adding that Santorum acknowledged that the reference to banishing liberal judges to Guam "was something (Santorum) shouldn't have said."
Congratulations, Guam. You finally have an American politician by the balls. Make the most of the moment.