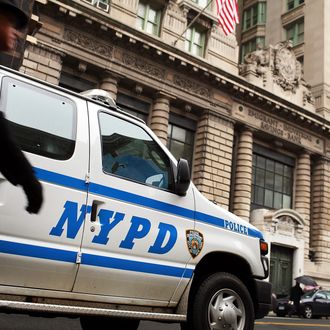 Photo: Spencer Platt/2012 Getty Images
A young man reportedly got into a shootout Sunday evening at 2698 Frederick Douglass Boulevard, near West 143rd Street, which ended when the suspect was wounded in the chest and thigh by a rookie cop.
"The uniformed officers, from the 32nd Precinct, approached the suspect for reasons that were not immediately known and he then took off," writes DNA Info. After fleeing, the man shot twice at the officers and missed. One of the officers, a uniformed rookie cop from Operation Impact, which stations police in high-crime areas, returned fire with at least two shots and connected. The suspect was taken to Harlem Hospital, where he remains in critical but stable condition according to the time of this writing.
The New York Post reports that the perpetrator recently completed a two-year prison term for an unknown offense.
"The kid was running away. He looked real scared," a witness told DNA Info. "Next thing I see him freeze and that's when the cop shot him in the back."