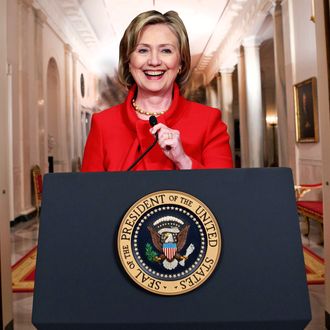 Photo: Mary-Louise Price; Photos: Brendan Smialowski-Pool/Getty Images(podium), Mark Wilson/Getty Images (Clinton)
Departing Secretary of State Hillary Clinton recently shared some of the wisdom gleaned from twenty years in the White House with Mitt Romney's favorite magazine, The Economist. Clinton has visited 95 countries and traveled 730,000 miles since joining Obama's cabinet, and Kirsten Gillibrand recently told BuzzFeed that she'll be "one of the first to ask Hillary to run in 2016." In the lengthy interview, Clinton got kind of whimsical about the past and talked about signing a treaty she'd never heard about. Some of the choice bits:
By means of introduction:
>
"I've been really at the highest levels of American political life," she said.
On Henry Kissinger and social media:
"I kid my good friend, Henry Kissinger. Can you imagine, in a world of Twitter, being able to sneak out of Pakistan and fly to China and do secret negotiations?"
On America as a Pacific power:
"The world had gotten so much younger, and those huge numbers of young people often had either negative views or no views. They didn't have the memories of World War II or the Cold War or American generosity and responding to a natural disaster that had happened to their parents. So it was a great effort to get back out there, going to Asia first, making it clear that we were a Pacific power … "
On the role of women in Afghanistan and around the world:
"It's not only the Taliban that hold these deeply traditional views about women's role in society in Afghanistan or, frankly, elsewhere in the world. One of the reasons that I've made it a centerpiece of American foreign policy is that on every indicator one can measure — the economy, GDP growth, on education, on democratisation, the suppression of women, their marginalization — their denial of basic rights means that the society as a whole fails to modernize, fails to progress."
On approving a treaty she'd never heard of:
"…I went to the ASEAN headquarters in Jakarta and signed our intent to accede to the Treaty of Amity and Co-operation, which I have to confess I had never heard of before preparation for the trip."
What Madeleine Albright and other predecessors told her:
"The general advice was, look, it's always been a hard job; it's even harder now."
Why she wont give her successor all of her advice at once:
"Because I'm afraid the president won't be able to recruit anybody."