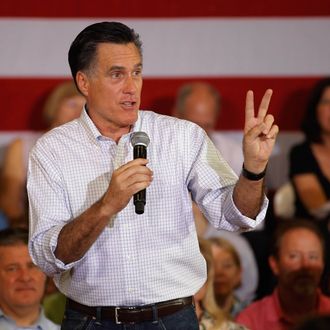 Peace or victory? Either/or.
Photo: Chip Somodevilla/Getty Images
After getting shellacked in Puerto Rico yesterday — where, with 83 percent of precincts now reporting, he's currently losing by nearly 80 points — Rick Santorum really would like to win a state soon, please. In fact, Santorum predicted over the weekend that if he beats Romney in Illinois, which votes tomorrow, he'd win the entire nomination. Not because Illinois is awarding 900 delegates, but because it's seen as Romney-friendly territory, so a Santorum win would be a huge, game-changing upset. But that's looking unlikely, as the latest PPP poll there shows Mitt Romney widening his lead to fifteen points. The only way that margin could get any bigger is if Santorum takes off his shirt and tells Chicago to start speaking English.