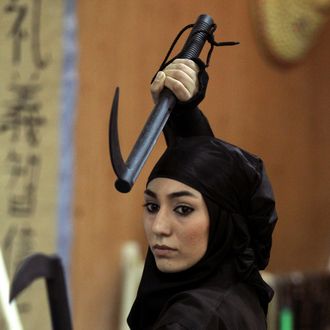 Photo: Atta Kenaare/AFP/Getty Images
Reuters' report last month about Iran's thousands of "female ninja assassins" did not make Iranian officials, or the female martial arts experts, particularly happy. The story correctly reported that about 3,500 women in Iran are training in the Japanese martial art of ninjutsu, but the headline made it seem like Iran was mass-producing cold-blooded killers. It's actually more like Soul Cycle: "It's about working out and staying fit," said one of the ninjas. 
Today, the Times reports that Iranian officials have suspended the press credentials of Reuters' eleven-person staff in Iran. This led the Gray Lady to employ the following pun: "Female ninjas in Iran may have found the pen momentarily mightier than the sword."
It took Reuters ten days to change the unfortunate headline from "Thousands of Female Ninjas Train as Iran's Assassins" to "Three Thousand Women Ninjas Train in Iran." Stephen Adler, the editor-in-chief of Reuters News, explained to the Times: "I didn't see factual errors in the story. The headline was really bad, and as soon as we learned about it, we changed it."
Adler said that Reuters is in talks with Iranian officials to restore the credentials but that the length of the suspension is not yet known.