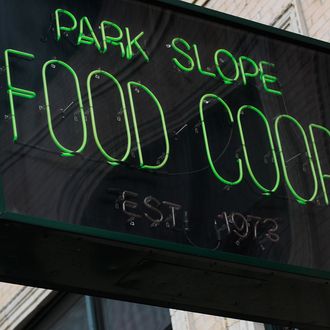 The Coop. (Chris Hondros/Getty Images)
Photo: Chris Hondros/2010 Getty Images
In just a few days, hordes of ecominded and highly political food shoppers will bear down on Brooklyn Tech's 3,000-seat auditorium for the latest installment of a three-year-long Israeli boycott campaign that has engulfed the Park Slope Food Coop. The meeting was moved from the 400-seat synagogue where it is normally held for obvious topical reasons, but also because the issue is likely to drive out thousands for Tuesday's main attraction: a vote on whether to hold a memberwide plebiscite on the proposed boycott. While supporters of the so-called BDS (boycott, divestment, and sanctions) movement have been actively courting fellow members — the coop has as many as 16,000 — in their effort to "send a message to Israel that it must honor international law and human rights" and halt its occupation of Palestine, the other side has been revving up, launching its own competing blog and garnering some big-name backers.
Glenn Beck likened the ban on Israeli products to drawing swastikas and told a fund-raiser for a Jewish museum that, "When you use words like 'I'm just anti-Israel' or 'I'm just anti-Zionist' — that's anti-Semitic." (This did incite one Coop member to respond that, "I'd like to boycott him.") That well-known collector of hate mail Alan Dershowitz, the Harvard law professor, spoke with the Observer and leveled the same criticism of the boycott advocates, who do claim to have Jews among their ranks: "That's what these people are, they're bigots. Many of them are anti-Semites. Some of them don't know they're anti-Semites. That doesn't give them a pass."
One Coop member, who also spoke with the Observer, referred to several of the group's other, less controversial boycotts in explaining why this situation has gotten so much more heated. (Over the years, the Coop has banned, among other products, bottled water, Chilean grapes to protest the Pinochet dictatorship, and Coca-Cola over the murder of union leaders in Colombia.)
We don't have any shoppers here from South Africa [which the coop boycotted during apartheid] or Nestlé. But this is different—this is Chaim town. This is the heart of Chaim town. So to come in here and try and push this boycott against Israel goes against everything the co-op is about, everything it was founded on.
"This just reeks of divisiveness," agreed one of the coop's founders. In fact things have even gotten physical, as the Times reported yesterday.
The aisles in the store have remained largely civil, but emotions have boiled over on the sidewalk out front. Pro-boycott activists say they have been kicked, pushed and spat on.
What's especially bizarre about all this is that the fight isn't really about the Coop selling Israeli products — it barely carries any, apart from some bath salts, peppers, lychees, and those Sodastream seltzer machines. It's fundamentally about distant politics and the Coop's evolving self-image, increasingly yuppy parents as opposed to the militantly rule-following matron with "long, straight silver hair wrapped with a dangling scarf, wearing diaphanous layers, abundant turquoise jewelry and redolent of a low-grade patchouli oil which didn't quite mask a faint yet distinct undertone of un-neutered cat" that confronted one local resident looking to join (and who later described the ordeal on our favorite inappropriately named Park Slope blog).
"It's not to make a political statement," one man told the Times, while an organizer with the More Hummus, Please boycott opposition added that, "We're being asked to take a position that's not going to make a bit of difference."
Despite how heated and personal this (and, it seems, all Israel-Palestine politicking) gets, chances are the Park Slope Food Coop is still a far way from dissolution. "Would I leave the coop?" over this, asked one member. "Did I leave the country when a certain president spent eight years in office?"