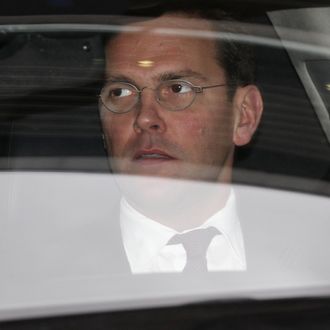 Photo: Oli Scarff/2011 Getty Images
James Murdoch has gone on the attack against Colin Myler, currently editor of the New York Daily News. In a letter to Parliament released yesterday he accused Myler, the former editor of News of the World, of concealing the extent of illegal phone hacking at the British tabloid.
Myler was editor of the weekly until last summer, when News Corp. shuttered the paper in an attempt to limit the effect of the scandal. It didn't work. Two dozen employees of the paper and its sister tabloid, The Sun, have been arrested so far. James Murdoch has been grilled by a select committee of Parliament which wants to know why he didn't act sooner. In a seven-page letter to the committee, Murdoch blamed Myler and Tom Crone, the paper's attorney: "Had Mssrs. Crone and Myler wanted to warn me that voicemail interception was more widespread [at News of the World], they could have come to me,"  he said. But they didn't. Instead, Murdoch contends he was led to believe that illegal phone hacking was the work of one rogue reporter who'd already been sent to prison:
"It has been said that I did not ask enough questions. However, the truth is that incomplete answers and what now appear to be false assurances were given to the questions that I asked. … The evidence given by Messrs Crone and Myler, in particular, displays inconsistencies on this subject, while my evidence has always been consistent."
Myler has a different version. He claims that in a June 10, 2008 he and Crone informed Murdoch that the scandal went beyond a lone reporter. "As far as I am concerned there was no ambiguity," Myler told the parliamentary committee. Crone backs up Myler's version.
 The select committee is expected to issue its report in coming weeks.  One key issue it will have to decide who is telling the truth: James Murdoch or Colin Myler, the former News Corp stalwart who is now editing the Daily News, which of course is the bitter rival of News Corp's New York Post.